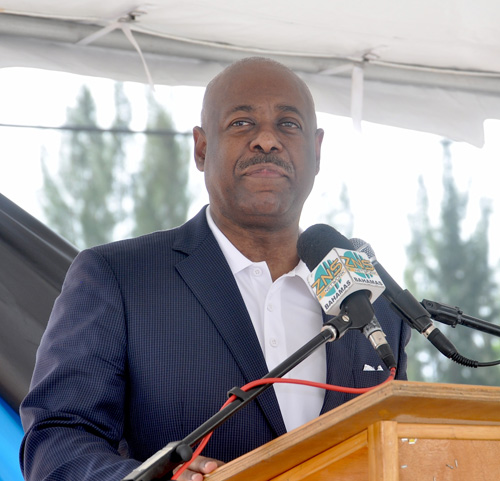 FREEPORT, Grand Bahama – The Hon. Obadiah Wilchcombe, Minister of Tourism, on Wednesday said sport is important because it helps build a man, and build communities. Minister Wilchcombe was addressing the opening ceremony of the Tabernacle Falcons' 16th Thanksgiving Basketball Tournament held at the school's campus.
Minister Wilchcombe applauded the cultural display by the students of Tabernacle Baptist Academy and he said, "there is nothing more important than showing how proud you are of your country."
"What we saw today from Tabernacle tells us they are so proud that they are Bahamians and so proud of what we have to offer."
Stating he was pleased to be there this Thanksgiving, the Minister added it is a good time to reflect and there is much to be thankful for. Basketball, he said, has been a part of Grand Bahama for a long time and some outstanding players and stars have come from the island.
Minister Wilchcombe then acknowledged those present who had made major contributions in the growth and development of basketball and softball, namely Gladstone "Moon" McPhee, Charlie "Softley" Robbins, Churchill Tener-Knowles, the Hon. Neko Grant, MP and Lindy Russell.
"They are all here today to give thanks, because they understand the importance of sport. They know that sport helps to build a man; they know that it has a holistic value and it causes all of us to understand what it means to be on a team. What it is to give and what it is to lose, because in order to be a great winner, you have to know how to lose.
"And all of us have been through that experience. That's how you build communities. That's how you build young men and cause communities to grow and nations to develop."
The Minister then turned his attention to the event coordinator, Norris Bain whom he said, has done an outstanding job in the country. He said having witnessed Mr. Bain's team lose at a tournament earlier this year and how gracious they were, "and what his team did in defeat – that is what makes a great champion." Mr. Bain, continued the Minister, has done an outstanding job and made a difference in the community.
He told the visitors from the United States, that they have come to a place they can call home. "Because of you, we have been able to build a strong tourism industry. In fact, 80% of our business comes from the United States of America and it is responsible for 60% of our GDP and more than 50% of our jobs."
Being here this week, he said, is a part of building tourism. "We know the mega events work. In all the years we have had this event during the Thanksgiving period, we've seen our occupancies grow and our business increase. Each time you come to our shores, remember there's another Bahamian with a meal, another job, there's another opportunity. That's how important you are to our tourism industry."
Minister Wilchcombe welcomed the guests and said they should enjoy all that Grand Bahama has to offer.