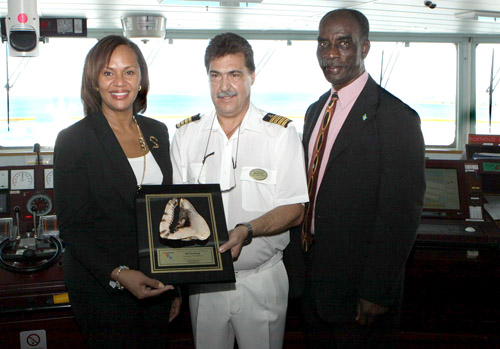 German-registered cruise liner MS Hamburg was welcomed by the thunderous sounds of Junkanoo recently as it made its inaugural voyage to Nassau – bringing with it over 300 passengers.
The cruise liner, which travels all over the world to places like New York, Chicago, Greenland, the Amazons, the Middle East and throughout Europe is owned by the Conti Group and operated by Plantours Kreuzfahrten.
During a special inaugural ceremony in the ship's bridge – rarely seen by passengers – Director General of Tourism Joy Jibrilu gave a "warm welcome" to The Bahamas.
"Over the years, the Ministry of Tourism has been honoured to take part in ceremonies such as this one. Yet no matter how frequent, there is always a celebratory mood and the feeling of hope because these ships, which are a part of modern tourism brings a promise of economic stimulation and activities to our shores," she said.
"We are delighted that the MS Hamburg, a luxury cruise liner in the Conti Group, is making its inaugural call in Nassau as well as Matthew Town, Inagua. I am also pleased to note that going forward the Hamburg will be making calls to Nassau on an annual basis and it will include visits to other islands in The Bahamas chain."
Ms. Jibrilu added that the Port of Nassau has one of the largest cruise ports in the world and has always been a choice of passengers.
"I am advised that 70 per cent of all cruise ship passengers that arrive in The Bahamas are on Bahamas-only cruises. This only gives greater credence to what we have said all along that every and anything that you could possibly want in an ideal tropical vacation can be found right here – 700 destinations in one country."
The director general noted that Festival Place is undergoing a multi-million renovation to better serve the millions of cruise ship passengers that are welcomed into The Bahamas.
"These renovations are necessary improvements to enhance our visitor experience and when you return next year or hopefully sooner, you will sail into a revitalized welcome facility and while Festival Place undergoes this transformation, I want to assure you that there is still so much for your passengers to enjoy in this historic city of Nassau – known for swash buckling piracy, old British forts and rum running legends," Ms. Jibrilu said.
The ship's master Captain Joao Simoes said he was especially pleased to be in The Bahamas, particularly since the ship came from more frigid temperatures.
"We are coming from the north from the really cold places where we had some snow and a lot of swells and we are very pleased to arrive here to The Bahamas because it is a warm place and a beautiful place," he said.
"We have been welcomed to many places but not like what we have received here. What counts more to a passenger is the first impression. That first impression is very important for them and very important for you. We have enjoyed it not only because of the sun or the sand but because of the welcome we received."
The MS Hamburg will also be traveling to Matthew Town, Inagua. Captain Simoes said it was a top choice for his passengers.
"We normally ask the passengers what they want to do because we have a lot of repeat passengers. The same passengers that book now are guaranteed to book next year. Normally, they chose The Bahamas," he said.
After leaving The Bahamas the MS Hamburg will head to other Caribbean destinations like Jamaica, Cuba and Martinique.