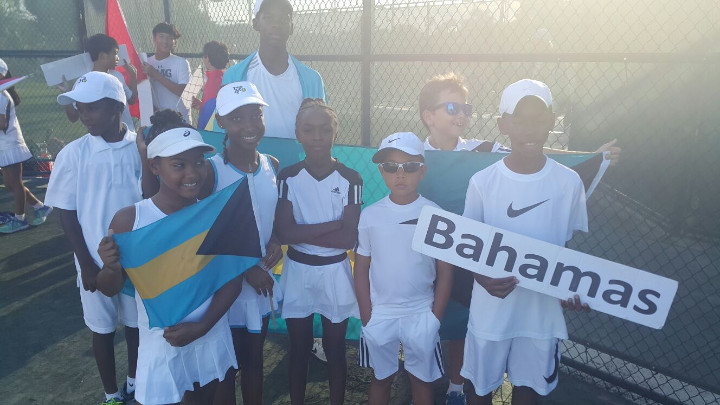 Nassau, Bahamas – To develop tennis in the important young age groups of 12 & under and 10 & under, the International Tennis Club of The Bahamas (IC) is to stage a series of weekend tournaments at five different top tennis venues in The Bahamas during 2018. Kit Spencer, President of The Bahamas IC, is pleased to announce that The Winterbotham Trust Company Limited – "Winterbotham" – will be the major sponsor for this series.
Ivan Hooper, CEO of Winterbotham, said: "We are pleased to support this great new tennis initiative that reaches young Bahamians at an age that is significant in both their tennis and personal development and through an organisation we have confidence in. The Winterbotham IC Junior Series adds to our continued support in developing younger generations through education and sports."
Neil Mactaggart who is the prime IC organiser along with Mickey Williams and Kit Spencer said: "We have managed to secure five different top venues that will reach out to a wide audience of young tennis players. This includes The Lleyton Hewitt Albany Tennis Academy, the fine new Baha Mar Tennis Facility, the National Tennis Centre, the Gym Tennis Club and a venue yet to be determined in Grand Bahama." The series is BLTA approved.
The first event is the weekend of 17th/18th February at the National Tennis Centre to be followed by the Lleyton Hewitt Albany Tennis Academy on 14th/15th April and Baha Mar on 19th/20th May. The events are all weekend on a round robin basis with a minimum three matches each day per player. Regular yellow ball for the 12 & under and softer "green dot" ball for the 10 & under will be used with short set format on a regular court. At the conclusion of the five event series, the IC will give awards to top players to help in their tennis development.
The IC motto is "Hands across the net, friendship across the ocean", encouraging strong competition with good camaraderie and sportsmanship. It is planned to include a light lunch for players in the $25 entry fee as part of the exercise to help foster young players with potential who can develop as a group of like-minded friends through future years. It is hoped that as the series develops overseas players will be encouraged to compete alongside our own Bahamian players to increase everyone's experience.
Entry forms will be available at the listed tennis venues.
Main IC organising Committee: Neil Mactaggart (359-0900), Kit Spencer (363-2930) and
Mickey Williams (557-8307). Bradley Bain will be Tournament Referee for the first event.
For information on the International Tennis Clubs (IC's): www.ictennis.net
For more Information on Winterbotham Group: www.winterbotham.com