Suspect should not sleep in this town tonight!!! If you know this suspect who did this call da police….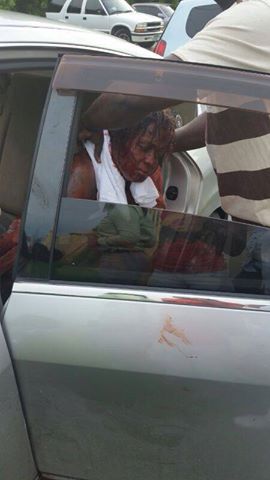 Nassau, Bahamas – BP is following an incident where  this 27-year-old lady was stabbed by an intruder into her home. The suspect broke into her home and allegedly attempted to rape the victim. The troubled man didn't bother to hide his face because it is believed he intended to kill this woman.
The woman, shown here drenched in her own blood, suffered wounds to her head, back, neck, chest, hand, and has a broken finger. The suspect sexually abused her but was unable to rape the victim.
Good thing someone had quickly pulled up by her home and frightened the suspect. He is now on the run.
Deep inside the home where this incident unfolded today looks like a murder scene. Blood is everywhere.
The door to the home was open and the assailant just walked inside.
BP warns all residents to please keep your doors and windows locked! Keep all weapons loaded for these Rwandan Style Gangsters!
The bandits don't give a damn if you have a cache of weapons inside anymore! The suspect now on the run is tall, dark and slim. He is dressed in a yellow striped shirt and baseball cap. He should have blood and marks on him. He might be ya child.
The suspect stole the victim's cellphone and wallet in the area of Kentucky Prince Charles Drive.
One must wonder how come when a police is shot people turn themselves in, but when things like this occur, you gata wait on a patrol. What in the hell is dis? We report yinner decide!