What the President of the SENATE doing inspecting the seawalls? Is K. Forbes-Smith the new contractor?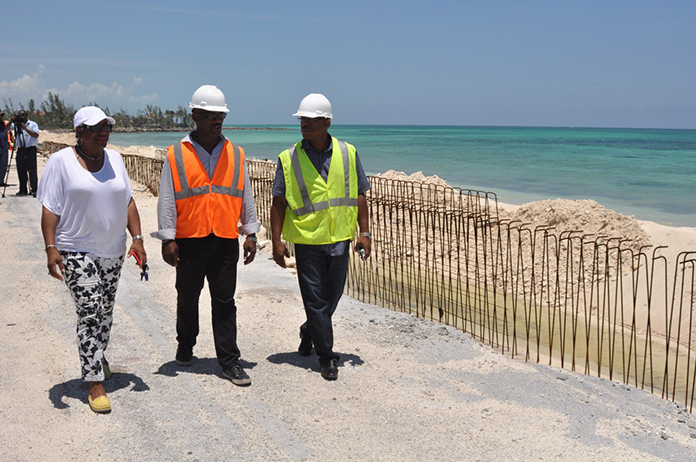 FREEPORT, Grand Bahama — Member of Parliament for Central Grand Bahama, and Parliamentary Secretary in the Ministry of Works, the Hon. Iram Lewis during a press conference June 11, expressed concern for the seawall project at Smith's Point, Grand Bahama, particularly with the arrival of the hurricane season.
The Parliamentary Secretary, an architect by trade, took members of the media on a tour of the seawall project on Sunday and explained his concerns.
During the press conference on site, Mr. Lewis noted with the 2017 Hurricane season already started, the settlement of Smith's Point is exposed to the elements with construction still underway.
He noted that with the hurricane season already underway and with the project still not completed, the Ministry of Works, and by extension, the Government of The Bahamas, has to take mitigating action to ensure that in the event of a tidal surge, this community is protected.
Mr. Lewis noted that a letter of termination was issued to the Contractor last week Thursday in a very amicable fashion, with no incidences. He said that the contract was terminated for several reasons, including the inability to meet timelines.
"The contract was signed, as we were made to understand, on June 24, 2016," explained Mr. Lewis. "It was a 26-week construction schedule. There were considerations given to the passing of Hurricane Matthew that devastated Grand Bahama, consideration given to the Christmas break period and even consideration given to weekends.
"An adjustment was made to the actual commencement of the Project. So earlier this year (in January), a revised schedule was submitted, advising that construction would be completed by May 17, 2017.
"Our technical team and Inspectors have grave concern over time lapse of this project. The work has fallen far behind." Mr. Lewis said that there were also concerns about the quality of materials that have been used thus far in the project, as well method of construction. Given those concerns, the contract has been terminated. "We are in the process of seeing how fast we can get the work to continue and [be] completed," added Mr. Lewis.
"We want the residents to know that even though that contract has been terminated, the work on this project has not stopped. The project is in a transition phase, but our goal is to ensure that the project is completed so that we could protect the people of this community who live so close to the water."