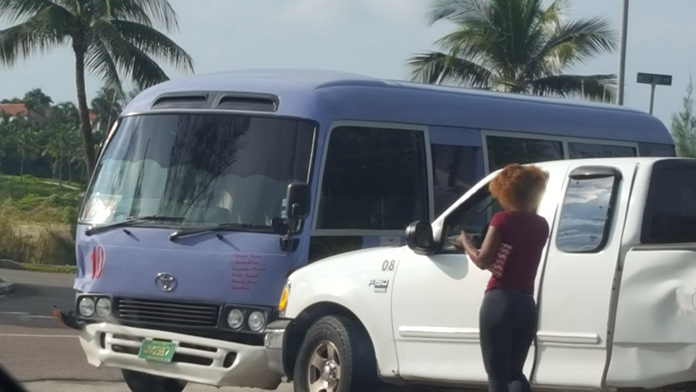 Nassau, Bahamas – A young female trying to work out early this morning at the Goodman's Bay parking lot slammed her white truck into this #10 jitney on West Bay Street at the parking entrance of the beach.
Now BP was live on the scene, trying to exercise and catch some fresh air, when the unfortunate incident occurred.
The crash took our attention when we heard a loud "BANG"! The female had just finished her workout and, well, the bus driver looked like he was just out of it. Upset and mad all at the same time.
A short while later, the mother of the young female showed up and she began carrying on bad like a [we ain't ga say that word] while she and another drunkard – who was a friend of the bus driver – began rowing. We couldn't believe it BP at the scene of another drama as the mother began one funny dance mixed with all kinds of UNCHRISTIAN parables spewing from her lips. Boy, that was a scene.
So we ga put it like this: If the young girl wasn't paying attention, and the bus driver was intoxicated – who the police ga charge?
An hour-plus passed and no police was yet on the scene. We guess that explains why.
We report yinner decide!