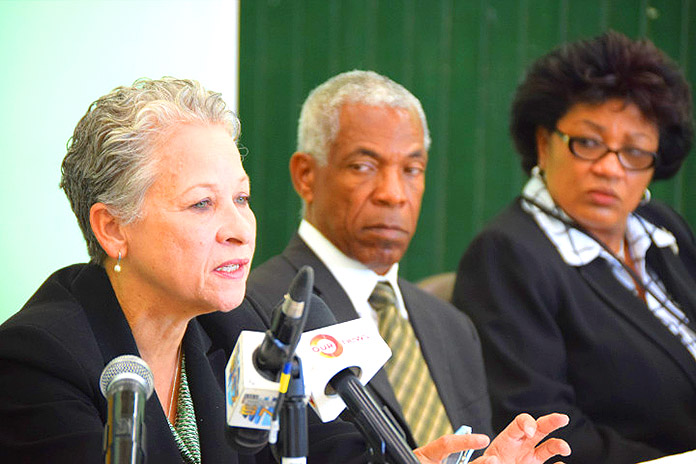 Nassau, The Bahamas – The Road Traffic Department (RTD) has entered a partnership with the Department of Corrections to produce license plates. The announcement was made during a press conference held at the Department of Corrections on Thursday, March 30.
Minister of Transport and Aviation, the Hon. Glenys Hanna-Martin was in attendance. She said that the government made the decision as a matter of policy to upgrade service by the Road Traffic Department, which has been challenged with controversy in recent years.
"The process of modernizing the Road Traffic Department has been a long and difficult one but we are now at phase two of the process," said Minister Hanna-Martin. "In a few months, the RTD will be fully automated." Phase one included the automation of vehicular and drivers licensing.
The Minister said that the government is putting these measures in place in order to minimize controversy and fraud and also to reduce the pressure from the influx of customers especially during the peak times of the month, particularly at month end when Bahamians tend to license vehicles.
Minister of National Security, the Hon. Dr. Bernard J. Nottage, said that he was 'pleased' to be a part of the program. He said it coincides with the government's objective of transforming the country's prison system and introducing a parole. He said that over two years ago the government passed the Corrections bill in a bid to facilitate the transformation. The production of the license plates will be a paid program for prisoners.
"We need to foster a new attitude in The Bahamas where we rehabilitate persons who are incarcerated so that they can return to society as productive members," said Minister Nottage.
Commissioner of the Department of Corrections Patrick Wright said that he was very pleased to partner with the RTD.
"We are happy with this initiative, which we believe is an excellent opportunity for some of our inmates," said Mr. Wright. " For the first time, our inmates will be on salary, which bodes well for them when they re-enter their respective communities."
The plates were previously produced by the Ministry of Works. Canadian-based company, JR Wall will set up the equipment for the production of the plates at the Department of Corrections. The company has 92 years' experience in producing license plates by prison inmates.
Tight security measures will be put in place to facilitate the safety and security of prisoners, and officers will be supervising them. Chief Officer David Fox, will oversee the program.