Louis Bacon's Save da Bays now owns and controls da FNM!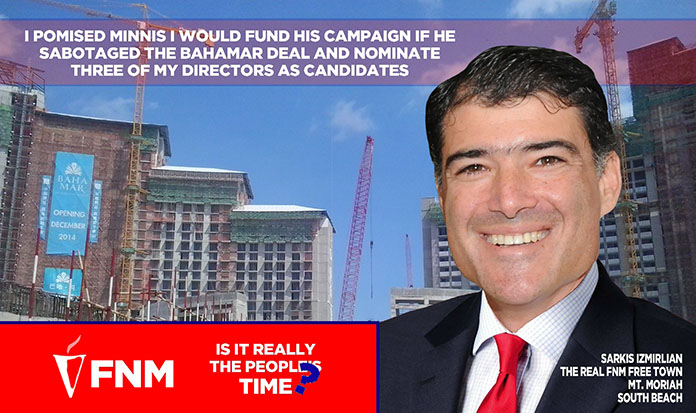 Nassau, Bahamas – Baha Mar Resorts Ltd. back on January 6th, 2007 announced that it has signed a joint venture agreement with the world's best-known gaming and hospitality company — a subsidiary of Harrah's Entertainment, Inc. (NYSE: HET) — to create and develop Baha Mar, the Caribbean's largest single-phase destination resort.
The joint venture partners also signed management agreements with Starwood Hotels & Resorts Worldwide, Inc. (NYSE: HOT). Establishing a new blueprint for resort development, Baha Mar represents the largest, single hospitality investment in the region and a one-of-a-kind destination resort experience with a range of top-shelf accommodations, services and amenities, and true-to-The Bahamas setting and design.
Well, the government changed, the Ingraham FNM government came in and refused to work with Harrahs, who eventually packed up and left the venture. Sarkis, who is now fighting for the FNM, decided he could do it alone. However, he could not find the money, so he got a Scotiabank Loan to buy the Marriott and then, well, it looked like something was ga happen. Then the project stalled again.
By 2008, Ingraham flew to China and whipped up a deal for some 8,500 Chinese to work with Sarkis dem to get the project back on its feet. China teams came, the FNM went forward and just when everyone though all was well, Sarkis went to Delaware to work against Bahamian contractors and workers to cause there to be a Chapter 11 agreement. The FNM supported that move.
The Christie Government stepped in and argued in court that this matter was not a matter for the Delaware courts to decide but the Bahamian court. Delaware Judge agreed and the Bahamian court's decision favoured Bahamain contractors and workers.
This is the story SAVE THE BAYS /SARKIS DEM AND THE FNM refuse to tell the Bahamian people. Hubert Minnis called the new Bahamar deal and upcoming opening FAKE NEWS!
But between Louis Bacon, Sarkis, Save the Bays and the FNM, it's NOT the people's time…but this same slick crew hiding behind the FNM! It is really Bacon and Sarkis time.
Louis Bacon, the Bahamas is NOT FOR SALE…but yinner could carry the FAKE NATIONAL MOVEMENT for all we care!
We report yinner decide!