BREAKING UPDATE FROM RAGGED ISLAND AS GOOD OFFICERS OF THE RBDF CONFIRM BP LATE NIGHT REPORT >>> BP WAS LIVE AND ON PO

IN
T!!!!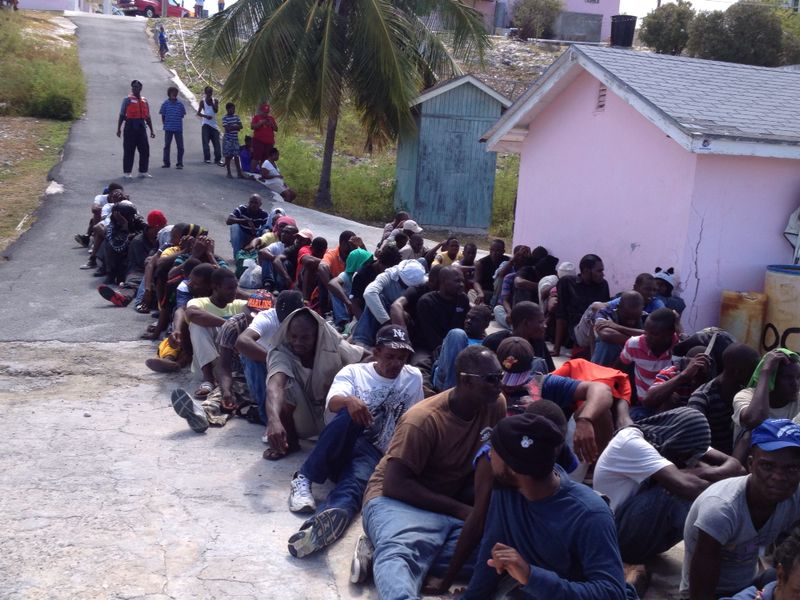 APPREHENSION OF HAITIAN MIGRANTS
Coral Harbour Base, 24 August, 2014 (RBDF): The Royal Bahamas Defence Force was a part of a joint operation with the Department of Immigration and Police at Ragged Island, which involved the apprehension of over one hundred Haitian migrants on Saturday night.
While on routine patrol in the Southern Bahamas, HMBS Nassau received information that Ragged Island locals had spotted a Haitian sloop in waters several miles off the southern end of Duncan Town. With further assistance of a local fisherman, Ragged Island Police and Immigration authorities conducted an immediate search of the area, which resulted in the apprehension of one hundred and five (105) undocumented Haitian nationals on Saturday 23 August, 2014.
The Migrants—seventy six (76) males and twenty-nine (29) females—were subsequently disembarked from their unsanitary vessel and taken into custody aboard HMBS Nassau commanded by Lieutenant Commander Raymond King and will be transported to an undisclosed location for further processing.
The Commander Defence Force, Commodore Roderick Bowe, expresses his thanks and appreciation for the assistance received from the Ragged Island Community, the local fishermen, the Ragged Island Police and Bahamas Immigration, and notes that the apprehension was a culmination of rapid response through a team effort among security forces and local communities.
(For further information contact the Royal Bahamas Defence Force Public Relations Department)
PS COMMENT FROM BAHAMAS PRESS: This latest apprehension would mean more than 430 illegals were apprehended in the Bahamas in the last 7 days as reported…