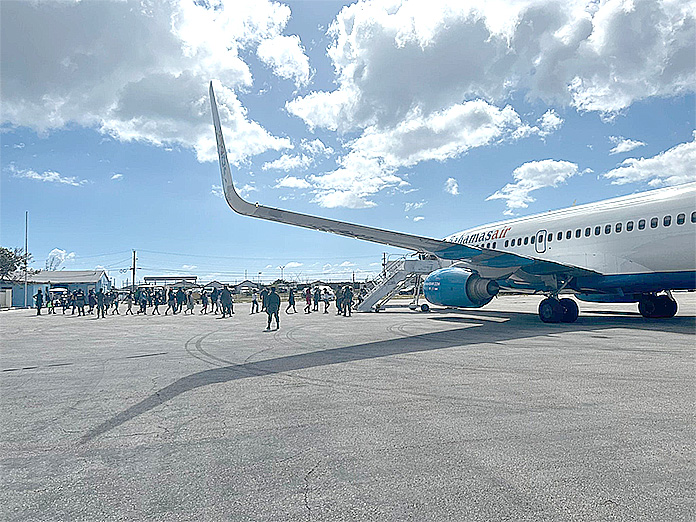 NASSAU| This week the Immigration Department effectively executed the repatriation of three (3) groups of illegal migrants from the Lynden Pindling Int'l Airport, New Providence back to their homelands.
On Thursday, 2nd March, 2023 two groups of migrants were repatriated. Firstly, at approximately 6:24 a.m., a Bahamasair chartered flight UP903 departed enroute to Port-au-Prince, Haiti with sixty-five (65) Haitian nationals onboard; fifty-three (53) males, ten (10) females and two (2) minors. Additionally, at approximately 12:02 p.m., a Copa Airlines flight CMP197 departed enroute to Panama City, Panama with seven (7) migrants onboard; three (3) Peruvians, two (2) Colombians and two (2) Chinese nationals.
Lastly, on Wednesday, 1 st March, 2023 at approximately 11:12 a.m., a Bahamasair charted flight UP901 departed enroute to Havana, Cuba with one hundred and twenty-eight (128) Cuban nationals onboard; one hundred and eight (108) males and twenty (20) females.
The Department's Deportation and Enforcement Units led both escorts. All security and health protocols were observed as the safety and welfare of our officers, law enforcement counterparts and migrants remain the highest priority.
For more information, call the Public Relations Unit at 1-242-322-7530, visit our website at www.immigration.gov.bs, or call our Investigation hotlines (anonymously) at 1-242-604-0249,
1-242-604-0171-2 or 1-242-604-0196.