THE BAHAMAS HAS A NEW TEAM OF DOCTORS >>>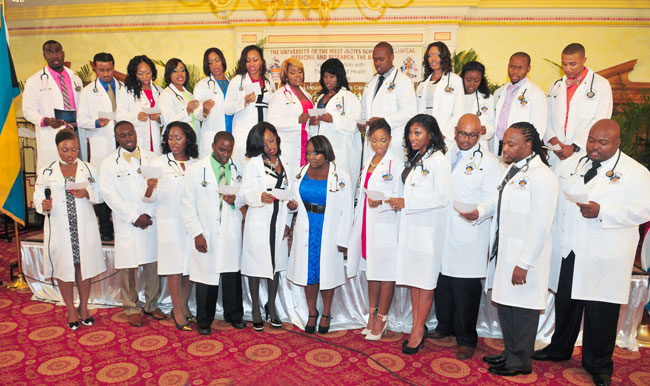 NASSAU, The Bahamas – Twenty-four Bahamian students were inducted as new doctors during a University of the West Indies (UWI) School of Clinical Medicine and Research induction and awards ceremony this week.
To date, 301 doctors have graduated from UWI – 80 per cent of whom are Bahamians.
Dr. Krista Nottage, one of the top students of the class, received several awards, including the Dr. Cecil M. Bethel Award for Most Outstanding Student, the Dr. Anthony Regis Award for Most Outstanding Student in Final MBBS Examinations and the Professor Knolly Alan Butler Award for Most Outstanding Student in Surgery.
Other students awarded were Dr. Jessika Thompson and Dr. Nikolas Deal-LaRoda for Most Outstanding Student in Psychiatry and Most Outstanding Student Performance in Community Medicine respectively.
President of the Medical Association of The Bahamas, Dr. Wesley Johnson congratulated the students and wished them well in this new chapter of their lives.
"I'm personally proud of all of you, the association will need you to create a future for not only you guys now but for the ones behind you" he said.
Dr. Robin Roberts, director of the UWI School of Clinical Medicine and Research reminded the doctors that they are the "future of medicine in this country."
"We have invested in you and in many instances at the expense of other goods and services required in our community. To whom much is given much is expected," he said.
The administrator of the Ministry of Education, Science and Technology's Scholarship Unit, Dr. Reginald Saunders applauded the students' parents.
"Parents, I congratulate you for your part in this journey because it is you who hold the hands of your sons and daughters, who uplift them to support and encourage them and to provide the financial assistance to them whenever there was a shortfall," he said.
Professor of Neurosurgery at UWI, Dr. Ren Holness, who was the evening's keynote speaker, urged the new doctors to listen to their patients and be an example for future students to follow.
"You are role models, one of the things that you have that most people don't have is that you share the inner most secrets of human beings," Dr. Holness said.
Quoting late Apple CEO, Steve Jobs, he added, "Your work is going to fill a large part of your life and the only way to be truly satisfied is to do what you believe is great work. And the only way to do great work is to love what you do."
Post Graduate-Education Coordinator, Professor Paul Ramphal told the students that they should be proud of what they have accomplished.
"You must be proud of the MBBS UWI. It is a representation of one the most unique universities on the planet. Where there is only one or two other universities that can claim multi-national membership and sponsorship and this university has produced some of the best doctors on the planet and you should be proud and wear it like a badge," he said.
The students were later presented with their white coats and stethoscopes.