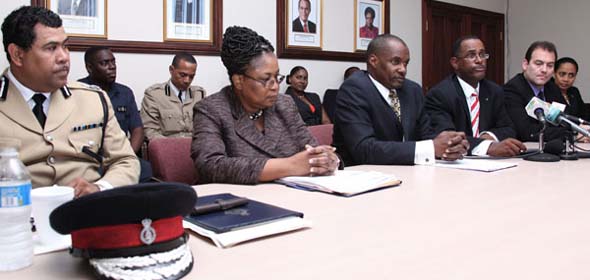 Nassau, The Bahamas – The Office of the Attorney General announced plans Friday, Feb. 3 at a press briefing for a Witness Care Conference to be held February 10-12. Acting Attorney General the Hon. Desmond Bannister said the conference is designed to address the "gaps" and "inefficiencies" in the criminal justice system and to bring together all partners and affiliated interest groups to view the system from the perspective of victims and witnesses.
Government officials in attendance included National Security Minister the Hon. Tommy Thompson, Police Commissioner Ellison Greenslade, director of public prosecution, Vinette Graham Allen and director of legal affairs, Debra Fraser.
Simon Deacy will serve as facilitator for the conference. He is a consultant and retired chief superintendent of police in the United Kingdom and  was a "National No Witness No Justice" project manager for England and Wales.
The conference activities include a public forum on Tuesday, February 8   from 7 – 9 pm at the Performing Arts Centre of The College of The Bahamas. The focus of that forum will be "The Criminal Justice System Supporting Victims and Witnesses".
On Wednesday, February 9 a seminar will be held for religious leaders between 10 am and 1p.m. On Saturday, February 12 a  seminar will  be held in Freeport, Grand Bahama for  religious leaders  between 10 a.m. and 1 p.m.
The Office of the Attorney General will also host a  public forum in Freeport on Saturday, February 12 between 4 and  6 p.m.