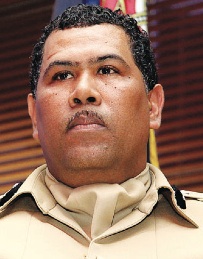 Royal Bahamas Police Force
Meet the Press – Year in Review 2010
January 24, 2011 at 11:00AM
Paul F. Farquharson Conference Centre
Police Headquarters
East Street
2010 was a year filled with crime challenges. We saw the proliferation of murders in our country and received far too many reports of shootings, stabbings, breakings, stealing, disturbances and a wide variety of other complaints. Despite the high volume of crime complaints, which were received from members of the public, our officers performed admirably. Not only did they respond to criminal complaints but they also responded to calls for services which were not directly related to crime at all.
I am pleased to report that overall serious crimes against the person decreased by 2% in 2010. This decrease was influenced by decreases in rapes which were down by 29% followed closely by unlawful sexual intercourse and attempted rape which posted decreases of 28% and 15% respectively. Notwithstanding the overall decrease in serious crimes against the person in 2010, the record number of 94 murders eclipsed the positive contributions made by officers who worked very hard to prevent the escalation of serious crimes against the person.
The 94 murders in 2010 represent an increase of 9 murders over the figure of 86 which was recorded in 2009. Due to the outstanding work by police officers and detectives, 89 persons were arrested and charged for murders committed in 2010. The detection for murders committed in 2010 now stands at 70% (66 murders solved) and I hasten to point out that the percentage is improving as we continue to solve cases from 2010.
Overall crimes against property increased by 14% in 2010. This increase was influenced by increases in Housebreaking, Stealing, Stealing from a vehicle, and stealing of vehicles which posted increases of 16%, 22%, 41% and 11% respectively. Based upon our investigations, we are of the firm belief that the opportunities for jewelry to be traded quickly for cash and also a ready market in our local communities for stolen property are two of the main reasons that we were so challenged by these types of property crimes in 2010. This being said, the category of shop breaking and Burglary posted decreases of 13% and 7% respectively.
In 2010 we were deliberate in our responses to pursue and arrest persons in possession of illegal firearms, ammunition and drugs. We established a Selective Enforcement Team to target prolific offenders and we redirected the efforts of the Firearms Tracing and Investigations Unit at CDU. We launched many combined operations (Detectives and officers from police divisions) in 2010 and we executed thousands of search warrants. We issued in excess of 15,000 traffic tickets (Fixed Penalty Notices) and sent thousands of people before the courts for traffic related offences. Our efforts paid good dividends as you will note when the interdiction figures are shared with you momentarily.
In 2011 we will also continue our efforts to reduce crime, enhance public safety, to positively engage our young people, improve our traffic management responses, and protect our nation's borders. We will also continue to target persons who traffic and possess illegal firearms as these weapons of destruction have exacted an unmerciful toll on our society. I believe that it is appropriate here for me to renew my call for our people to put down illegal weapons and to desist from a life of crime. I call upon all well meaning citizens to stand with us as we recommit to making our communities safe places to live, work, visit, and play.
I wish to recognize, at this juncture, the outstanding contributions of the employees of the RBPF in 2010 and I want to again publicly offer our thanks and appreciations for the sacrifices that they have made. We believe that the majority of our officers are decent, upstanding, honest, and industrious Bahamians who are committed in the service of the citizens of this country. However, I must also recognize the fact that we have among us some persons who have not remained true to their oath of office and who have brought the good name of the RBPF into disrepute in 2010. Where we have identified such persons, our actions have been firm and decisive. I have asked Deputy Commissioner Dames, the head of discipline, to share details of the actions we have taken in dealing with such officers.
Momentarily you will hear from various members of my Executive Management Team and the Commanders of the Central Detective and Drug Enforcement Units. They will provide more specific details regarding actual crime figures and will speak to many other successes that we have had.
We have also prepared statistical packages for you which you will receive immediately after this press briefing.
I wish to conclude my remarks by thanking the Government of The Bahamas for providing us with the required resources to effectively perform our duties and for the support that they continue to give us on a daily basis. I wish to also thank members of the community for the tremendous support which we received in 2010. Our best results were as a result of the support which we received from our public.
Members of the press, you have carried our stories for the entire year and you have assisted us on occasions when we needed you most. For this, and many other courtesies, we thank you very much.
I will be happy, along with my team, to answer your questions after the formal presentations. Thank you.
Ellison E. Greenslade, QPM, MBA
Commissioner of Police
24th January 2011