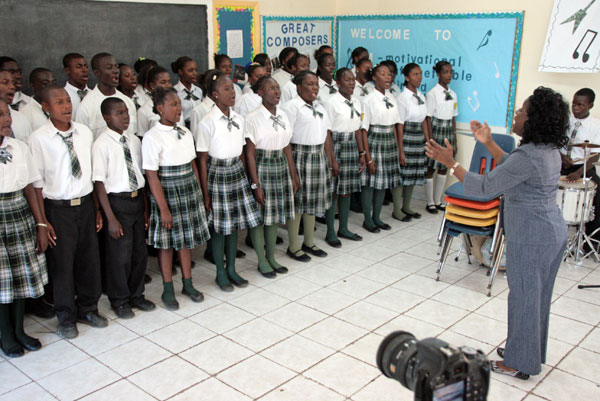 Palmetto Point Eleuthera, The Bahamas – Students at the Central Eleuthera High School, in Palmetto Point, Eleuthera, lauded the E. Clement Bethel National Arts Festival as an avenue for their artistic expression.
"I must say that the National Arts Festival is a great experience for me because it gives me an insight as to where my talent level is, in terms of the rest of The Bahamas," said 11th-grader Cleon Lewis. He performed with the mix ensemble band, as well as a snare drum solo and a trumpet solo that day.
"It feels really, really good to be last year's National Winner (in his Class) and this year to come and compete again in the Senior Division," he added. "I hope I do well."
Ninth-grader Cenize Louissait, who sang in the gospel choir, said, "This was my first time entering and I feel great about it. It's nerve-racking, but enjoyable."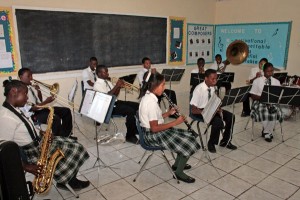 Fellow ninth-grader Tiajia Culmer played the clarinet and was in the band. She said playing solo in front of the adjudicators made her feel nervous, at first; but she got more relaxed and the performance felt better than she expected.
"I loved performing with my classmates," she added. "It was fun."
"I felt so nervous, I even cried when I was finished," confided Sherrad Coakley.
"You go in there by yourself and any mistake you make they hear, it makes you very nervous," Ms. Coakley said.
"I could understand her being nervous by herself," chimed in Ms. Louissait. "I was with my other schoolmates in the choir; so I felt comfortable. If I was by myself, I would probably break down, too."
"This is my first time playing in the National Arts Festival and, before playing, we were very nervous," said Wade Weinberger, Jr., who played the sousaphone and the baritone tuba. "It was very hard to accept the fact that we are going to play in a big festival, competing against the entire Bahamas."
Mr. Weinberger also received the highest scores for music in that day's adjudications.
"It was very surprising because I thought I did worse than everyone else," he said with a smile.
Adjudications for the E. Clement Bethel National Arts Festival are slated to continue until June 7, 2011, with islands such as The Exumas, Inagua, Crooked Island, Long Island, Cat Island and North, Central and South Andros visited over the next few weeks.