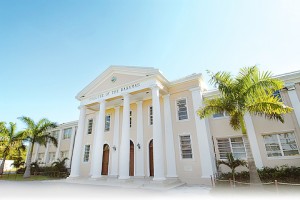 Nassau, Bahamas — A college lecturer connected to the new FNM #2 Party has gone on the edge of ethics at the College of the Bahamas and has threatened to fail students if they refuse to join his new political party.
Bahamas Press is investigating the complaint raised by a student to the faculty head in the English department at COB.
According to the student, the course has become bombarded with material associated with the new FNM break-a-way group. The lecturer, the student charge, has detoured from the course from its outline and appears to be more bent on promoting his organization rather than teaching at COB.
"We are being forced to attend political events and write assignments that have nothing to do with the coursework. This is not a government and politics class, this is an English class, yet, we are being asked to write material relative to the new party and attend its events. This is unfair and the College Principal should put her foot down or out rightly fire the lecturer if he continues in his actions," student told BP.
Bahamas Press has learnt the lecturer is a senior member of the new party and will go at no end to threaten young people, even to the point to fail them in the class if they do not carry out his political wishes.
According to a student, a few weeks ago she was forced to participate in a cash collecting exercise for the professor or face the music.
"I am not going green and I don't see why I must be forced to do these thing."
Bahamas Press calls on the President of the College of the Bahamas to warn that lecturer at the tertiary institution before BP pulls the folder on him. And boy if we 'gata' do that we promise him, that exercise would be like a thesis.