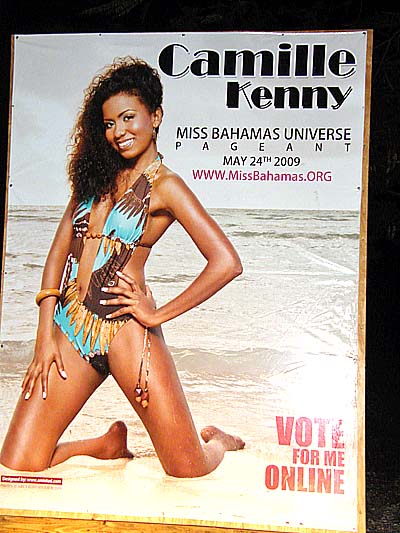 This is certainly not the kind of photo one would expect to see hoisted in broad public view in Nassau, or should we say in times past. It is a swimsuit photo of a Miss Bahamas pageant contestant, poising in what we would like to describe as a swim suit.
However, when one looks closer you wonder, is this young girl exposing it all? All in public view? Take a look at the photo below and ask yourself, is this the sheath formed by the basal part of certain leaves where they embrace the stem? [We're using colourful language here].
Persons in the ministry of works should be concern about this poster now hoisted on the streets of the capital. The Bahamas is NOT a place for suggestive public propositioning all in the name of a beauty pageant. Come one man, let's do better if only for the CHILDREN! The poster has the junction of Shirley Street and Village Road all blocked up, leaving kids screaming in the car saying, "…oh mommy look, da woman have on half panties!"
Come on people you're trying to promote an EVENT NOT SELL/PROSTITUTE WOMEN?