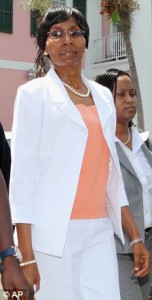 Nassau, Bahamas — A BP NEWS ALERT FROM THE COURTS WITH THE EXTORTION TRIAL INVOLVING THE TRAVOLTAS.
BREAKING NEWS HAPPENING NOW CONFIRMS BP NEWS MORE THAN A WEEK AGO.
Pleasant Bridgewater is a FREE WOMAN! As the attorney general issued a nolle prosequi this morning. This is a notice by the prosecution to dismiss the case.
By Soraya Roberts
DAILY NEWS STAFF WRITER
John Travolta wants the pain to stop.
On the request of the actor's family, a judge in the Bahamas dismissed charges Monday against two people accused of extorting money from the star and his wife after their 16-year-old son Jett died.
"The Travolta family has said that this matter has caused them unbelievable stress and pain and they wish to put this whole thing behind them," prosecutor Neil Braithwaite said.
The lawyer submitted the motion to drop the case after a jury had already been chosen and a retrial scheduled for ambulance driver Tarino Lightbourne and his attorney, Pleasant Bridgewater.
The duo was accused of seeking $25 million from the actor by threatening to release private information about Jett's death in January of last year at the family's vacation home in the Bahamas.
According to People.com, Travolta signed a "Refusal of Treatment/Transportation" form Jan. 2 after his son suffered a deadly seizure. Bridgewater and Lightbourne, who obtained the "Pulp Fiction" star's signature, reportedly hatched the extortion plot believing the actor would be embarrassed by his decision to refuse service.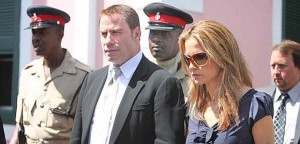 Travolta, an avid pilot, initially wanted to take his son to an airstrip for an emergency flight to Florida, TMZ.com reported. But the form was eventually disregarded as the harried parents accompanied Jett in an ambulance to a local hospital, where he was pronounced dead.
Bridgewater resigned from the Bahamas Senate after the charges against her went public.
In October, the judge declared a mistrial after a Bahamian legislator announced at a political convention that the jury – who were still deliberating after eight hours – had acquitted one of the suspects.
While Travolta testified during the fall trial, he said on Monday that he had decided not to testify during a retrial despite previously stating he would.
"The long-pending status of this matter continued to take a heavy emotional toll on my family, causing us to conclude that it was finally time to put this matter behind us," he said in a statement to The Associated Press. "Therefore, after much reflection I concluded that it was in my family's best interest for me not to voluntarily return to the Bahamas to testify a second time at trial."