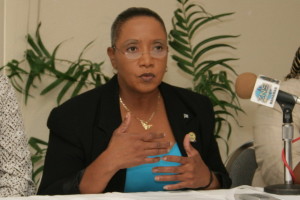 Nassau, Bahamas – Bahamas Press has been reporting to public how crookedness and slimy backstabbing behavior has been contaminating The PLP South Beach Branch, where the duly qualified branch members wanted Myles Laroda, as the candidate for 2012; but the higher echelon of The PLP wanted disgraced and shameless Cleola Hamilton, 'the black widow of the nursing profession' (more will be said about her in the coming days).

Bahamas Press can confirm that the branch members held true to their belief that an outsider should not be their candidate and as a result, the voting process, after 22 eligible voters (Stallwart Councillors and Branch Executives), revealed that Myles Laroda had 20 votes and Dr. Linwood Brown had 2 votes. Cleola Hamilton (the outsider) couldn't even get one vote! Nada, zilch, zero! But it gets worse.
Bahamas Press can confirm that when The PLP higher echelon's goon squad saw how the voting was going—they called the voting process null and void, even though there were still approximately 60 more eligible voters waiting their turn!
Bahamas Press left the branch meeting after 10 P.M. and branch members were still raising hell. Hopefully they got to the true source of the contamination and left South Beach to continue raising hell on Cable Beach.