TEAM WELCOMES COUNTRY'S NEW AMBASSADOR IN WASHINGTON…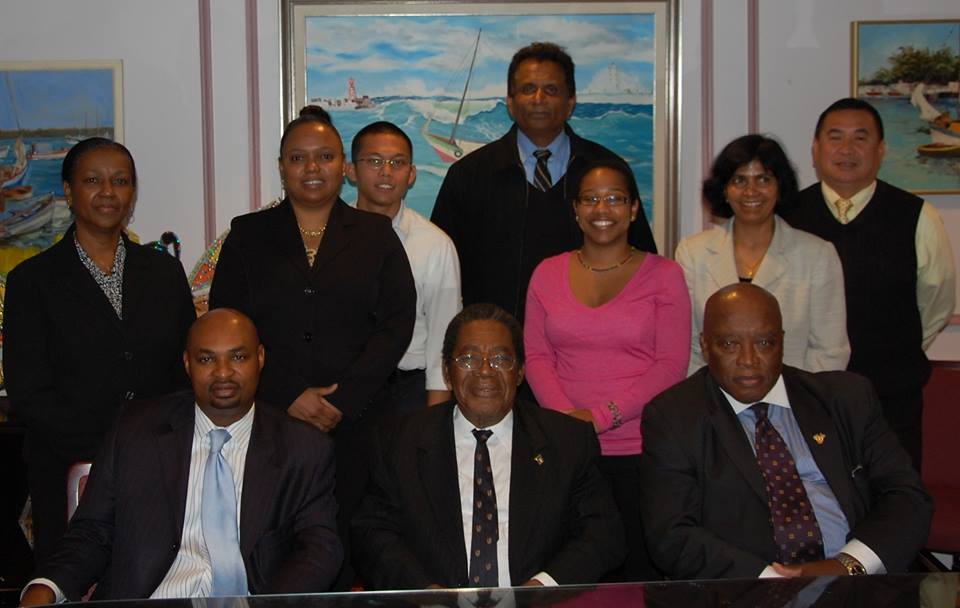 BAHAMAS TEAM IN DC IS STRONG!
AMBASSADOR'S STAFF MEETING — His Excellency Dr. Eugene G. Newry, Bahamas Ambassador to the United States, held his first meeting with staff members at the Bahamas Embassy, 2220 Massachusetts Ave., N.W., Washington, D.C. on Monday, Sept. 23, 2013.
During his brief remarks, Dr. Newry, a neurosurgeon by profession, noted that he had previously been Bahamas Ambassador to Haiti and the Dominican Republic from 2002 to 2007 and, most recently, the United Nations in New York.
"I'm a very open person," Dr. Newry said.  "In fact, in New York I never closed my door; nor in Haiti or the Dominican Republic. My door is always open…This is a family affair and each person ought to be in their mindset a part of this…There should be nothing you should be afraid to say as long as you say it, as long as you do it courteously; that's the only requirement…My main thing at this stage of my life is the advancement of The Bahamas in its national goals."
Pictured seated from left: Deputy Chief of Mission Chet Neymour, Ambassador Newry, and Oswald T. Brown, Press, Cultural and Information Manager. Standing from left: Mrs. Colleen Isaacs, Accounts Officer; Ms. Inga Dean, Consular Assistant; Mr. Paulo Landicho, Maintenance/Chauffeur; Mr. Dharmadasa Hettiarachchi, Ambassador's Chauffeur; Ms. Faith Jasmine Lightbourne, Ambassador's Secretary; Mrs. Nesta Pathirana, Private Secretary; and Mr. Reynaldo Fabella, Senior Driver.