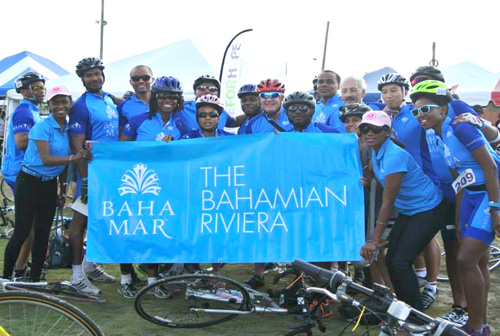 NASSAU, The Bahamas – Baha Mar resort and it's philanthropic arm, the BELIEVE Foundation, are helping to raise funds for cancer initiatives in The Bahamas, joining thousands of cyclists in this weekend's 9th annual Ride for Hope.
This is the first year the charity biking event is being held on New Providence, giving a greater number of Bahamians and visitors a chance to participate and give back through the much-anticipated event.
Through their participation, Baha Mar's team of 20 riders will help to raise funds that support cancer initiatives and research in The Bahamas, including the Bahamas Breast Cancer Initiative Foundation and the Cancer Society of The Bahamas.
On Saturday, Baha Mar will host a High Carb Dinner, serving over 500 riders, featuring high-fuel foods and entertainment for race participants.
Baha Mar is also rewarding those who ride for a cause, with exclusive gifts for Ride for Hope riders.
As a Yellow Jersey sponsor, Baha Mar volunteers will be on the sidelines, cheering and supporting riders as they weave through the streets of New Providence. The route will take riders west from Goodman's Bay to Clifton Pier, ending at Lynden Pindling International Airport.
Guided by Baha Mar's deep commitment to The Bahamas, BELIEVE was created to encourage the development of the community, the appreciation of the Bahamian culture and to ensure the protection and conservation of the environment. With the dedicated and passionate team and corporate partners, BELIEVE focuses on local initiatives to support organizations that make a difference in the community. Through volunteerism and monetary donations, the foundation is committed to working with employees, guests, partners and the community to build a strong future for The Bahamas.