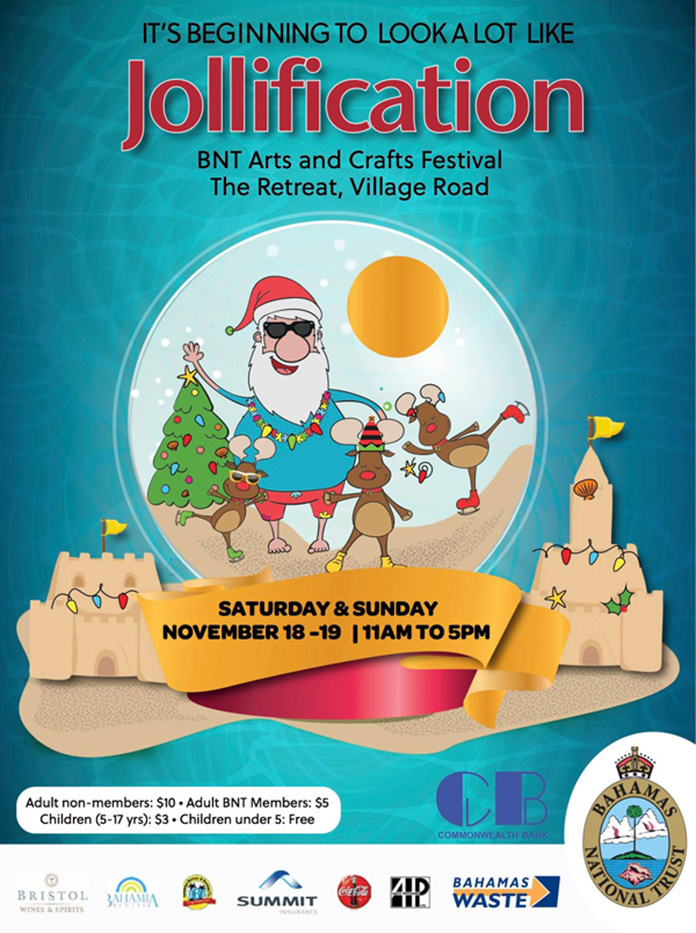 "It's Beginning to look a lot like Jollification" and that is the theme for the Bahamas National Trust's very popular Christmas fundraiser being held on November 18th and 19th at the Retreat Gardens on Village Road.
"The Christmas Jollification is an important fundraiser for the The Retreat Garden. This national park protects an outstanding palm collection and has tremendous potential for increased touristic visitation. Funds raised from the Jollification will assist in upgrading the infrastructure to enhance the visitor experience." said Lynn Gape, BNT Deputy Executive Director.
Christmas Jollification features some of the finest arts and crafts in The Bahamas, a variety of food with an international flair and a tasting of holiday spirits provided by Bristol Wines and Spirits and Bahamian Brewery. The staff of Commonwealth Bank, who are also major sponsors, will again assist the BNT at the gate and at a number of booths.
Caribbean Bottling and Coke Zero Sugar are partnering with the BNT to offer a special membership promotion on Friday night with any newly signed up member receiving a special sleek water bottle. If you want to attend on Friday evening November 17 you must become a member first. The event is open to the general public on Saturday, November 18 and Sunday November 19 from 11:00am – 5:00pm at The Retreat on Village Road. Jollification will feature over 80 talented artisans who will have wonderful crafts, jewelry and gift items on sale on Saturday and Sunday. Admission is $5 for BNT Members and $10 for the general public, Children from 5 – 17 are $3.
This year Queen's College is partnering with the BNT by providing space across the street adjacent to their parking lot as a new area for the event. Vendors are excited that more space is available for their participation. BTC has also joined as a sponsor for the event. "These new additions are all part of the continued growth of the event." said Urmie Braynen BNT Events Coordinator.
One of the most popular areas at Jollification is the 'Jolly Market' which features homemade jams and jellies, cakes, jewelry, chocolates and wonderful straw designs from a number of artisans. And no festival at The Retreat would be complete without a very special Plant Area and of course a raffle with donations from Jet Blue, Commonwealth Bank, Shirley Enterprises and our Jollification vendors.
Christmas is for kids and this year's Children's Crafts area, sponsored by Asa H. Pritchard, will feature nature oriented games and activities and Christmas Crafts.
An adult attraction this year is the Mistletoe Lounge in the Pergola area of The Retreat featuring a sampling of holiday spirits and ice cold brews throughout the day sponsored by Bristol Wines and Spirits and Bahamian Brewery and Beverage.
As always there is going to be fabulous food at Jollification featuring a variety of chefs who will be preparing Bahamian and international cuisine. The Batter Girls will feature their delicious conch fritters, the Annunciation Greek Orthodox Church will provide patrons with gyros and everyone's favorite pastry baklava, Philippine Delights will provide an Asian flavor, Corn Diggity Dogs is back and Dino's Gourmet Conch Salad is just one of the many food vendors that will be at the event. For those who just want an Old Fashioned Hamburger the East Nassau Rotary Hamburger Van will be serving their "world famous in the Bahamas" hamburgers. Caribbean Bottling will also be hand with their selection of sodas with Discovery Club members working in the Coca Cola Van.
The Bahamas National Trust was created by an historic Act of Parliament in 1959 to protect natural places and conserve natural resources in our islands. The BNT has played a vital role in building and managing the nation's network of national parks, and we advise the government and private sector on environmental issues. We advocate science-based approaches and build collaborative partnerships to address complex issues. We work with local communities to achieve real benefits for society. Our goal is to conserve and protect Bahamian natural resources, through environ- mental education and stewardship.