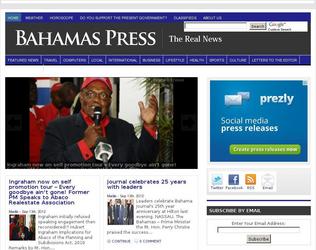 Running through the veins of the Bahamian gene pool today is an extremely ambitious team who sought back in October 2007 to change the Bahamas forever.
This fine crop of what I like to call "Silicon Valley Talent" delivered to the Bahamas the fresh idea of citizen journalism as the country moved to high-speed independence.
Back then on the bridge of our editorial room were a small core group who believed that the Bahamas could become a far better place, if only we could deliver through our talent true, decent and trusted leadership in every sphere of our society.
And so, in October 2007, Bahamas Press embarked to carryout that mission and published an online editorial which reflected our passion then, and which proves still true to this day. It was set with a photograph depicting the bewilderment of an unemployed single mother and her "victimization" experience that year.
It was the experience of that woman, who, like many in the 52-week program today, lost her job to the evils of politicians who sit and greedily intoxicate themselves around thousand dollar a night bars on Paradise Island, while Bahamians struggle to meet the growing tax demands.
Our passion for service has not been extinguished. We are true and have extended our reach to meet all the people in our quest to open the eyes of every Bahamian.
We are true to you our thousands who come here for our conversation to our national development.
To those who feel we have not been better than we ought, we commit to you our intention to improve, to present greater objectivity with clear cogent arguments to you, our readers.
We have come a long way. We have extended our readers with more than 19,000 social media followers and over 300,000 weekly online readers at our main website page www.bahamaspress.com.
We ask you to join us in building this online experience as we make Bahamas Press number one!
THANK YOU ALL!!!