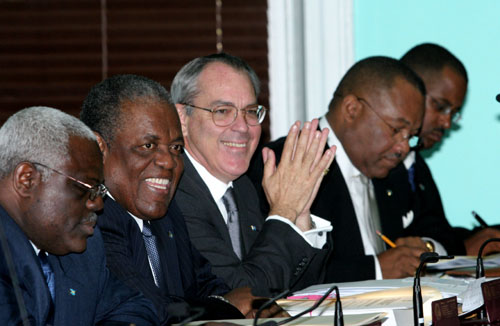 Prime Minister along with parliamentary colleagues in the House of Assembly (file photo).
Every Wednesday is opposition day in the House of Commons at West Minister in the United Kingdom. It is a fiery time where members of Parliament on all three sides of the House present questions to the Prime Minister. This is a maturity the Bahamas has yet to reach. When will a Kendal Wright have the chance to ask the Prime Minister here in this country, "When will the residents of Clifton get their ????" We are not there just yet.
However, whilst the Bahamas Parliament is not there yet, Bahamas Press is, as we are about to make this website the question centre for the Cabinet of The Bahamas. We begin today by asking some questions to the Prime Minister Ingraham on matters relative to the state of affairs here in this country and their that affects to our people. Here we go.
To the Prime Minister Rt. Hubert Alexander Ingraham:
#1 – Can Rt. Hon. Prime Minister tell us the people, who accompanied him on his trip to New York on last week to the United Nations and  what was the total cost of the trip to the Bahamian taxpayers?
#2 – Can the Rt. Hon. Prime Minister tell us the people, what is the dollar figure committed by the Bahamian government to the Haitian government for reliefs efforts after hurricanes passages through that island nation? What is the cost to Taxpayers?

#3 – Can the Rt. Hon. Prime Minister tell us the people, noting the fact that his government taunts a record of TRANSPARENCY AND ACCOUNTABILITY to the Taxpayers of this country, will your government present to Parliament a Freedom of Information Act – already in drafted – which is intended to expose to the public, all contractual agreements entered into by government with private contractors, and if not why and if so when?
These will be a first of many questions Bahamas Press will ask the current administration. And sometime some will also be poised to the Opposition. Some questions going unanswered can resurface and perhaps end up in many public discussions if not answered.
 Bahamas Press/ Editor