Nassau, Bahamas: Bahamas Press has learned that a senior civil servant in the Department of Immigration is undermining the system and is assisting a storefront company on Bay Street, to execute illegal work permits for illegal immigrants to invade the already over populated city of Nassau.
A source tipping off Bahamas Press confirmed that the company processes work permits for scores of immigrants through a contact in the Department of Immigration.
"Many of the clients are Asian workers, many who transit here to The Bahamas via cruise ship vessels. How they get on those vessels where millions of tourist visitors travel is beyond me," the source noted.
"During late night hours the husband and wife team can be seen collecting passports and documents from the cruise ship workers, who gather at their establishment. We believe they are the facilitators of the movement of the workers to The Bahamas.
"Many of them are cooks and line workers on the vessels and if you follow them, every time the ships are docked in Nassau, they gather at the establishment on Bay Street to have papers processed, sometimes late into the night or early in the morning. Sometimes the husband and wife team is seen staking out downtown behind the Royal Bank building on Bay Street awaiting their arrival or dropping them off," the source said.
Upon taking our investigation into the centre of the operation, Bahamas Press visited the Bay Street location. Whilst there, the Bahamian owners were seen, when less patrons are in the area, passing document after document for illegal immigrants to a Immigration officer who is stationed at the immigration department headquarters on Hawkins Hill.
Bahamas Press contends that the operation is connected to an international ring, and raises concern that millions of Americans traveling to The Bahamas are amongst other humans being quietly trafficked on those vessels. This should be of grave concern to the Department of Homeland Security, as we have lost all confidence in the Royal Bahamas Police Force dealing with this matter.
Also let us say here that this is another story that the WUTLESS Media in The Bahamas will never pursue. The Media continues to say it cannot do investigative news, and we ask, does it really want to investigate news or would it rather continue to deflect truth in The Bahamas?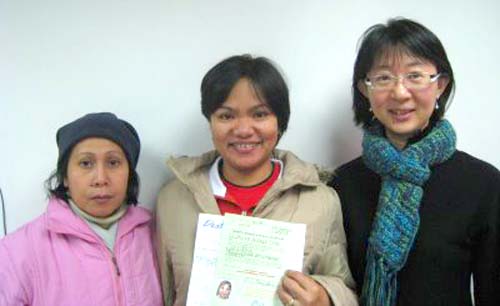 Lorena's auntie (1st from left) and Alice (founder of 1MaidHK.com) poses with Lorena (holding Bahamas work permit & airline ticket sent by employer) before leaving for Nassau, Bahamas.