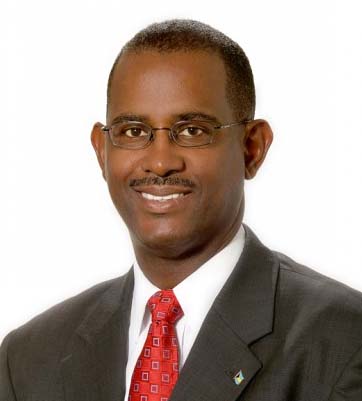 <<< Tommy Turnquest, Minister of National Security.
Nassau, Bahamas: This is what happens when justice collapses in a country. Tommy Turnquest on Wednesday, went out of his way to say, murder, robbery and overall violent crimes are down in the country. When we assess this statement, what is true is this. Yes, murder is down because many murders are still unclassified, like the murder of a young man whose shoes was on his feet but head was off his body in the South Beach canal. And yes robbery is down, but perhaps the minister referred to robberies committed by members of the Royal Bahamas Police Force. Because when we last checked, in the last three months, three major banks have had OPEN DAYLIGHT DARING ROBBERIES, Scotia Bank East Street, Commonwealth Bank Blue Hill Road and Scotia Bank in Andros. That had not occurred in The Bahamas in years! And if the banks are getting robbed in the middle of the day, "CAN YOU IMAGINE!" the homes and persons getting robbed at night?
But the minister says what is scripted for him to say, and yet still again the shadow minister of national security in the PLP says not a word. We remind our readers when statements go unchallenged like these, scripted to deflect the true CRISIS STATE in our country, we are NOT a practising democracy!
Bahamas Press therefore presents today the story of Rwanda, which proves what can happen when CORRUPTION gets out-of-hand in a nation. Here is an example of what occurs when files go missing in the police prosecutions department, shredded and nothing is done to protect the innocent.
Here is what happens when rape can occur in a public school and the minister, the commissioner of police and administrators at Queen's College do nothing. Here is what happens when police rob resident workers and some are assaulted and beaten and nothing is done about it.
Here is what occurs when CORRUPTION gets soo bad that drugs dealers, guns runners and gangs transact their illegal business dealings right in front of the Commissioner of Police office in downtown Nassau –Prison Lane to be exact – and nothing is done.
Here is what happens when police officers allow known drug smugglers – wanted for crimes  – to walk right out of the prison cells here in the Bahamas. The guilty officers – who facilitated their escape – are transferred to do the same CRIME at another police station.
In this video below this is what happens when a country becomes STEEP IN CORRUPTION AND CULTURED IN WICKEDNESS, and the result is that good men standby and do nothing! Bahamas Press presents the 'Ghost of Rwanda' a true story of the 1994 genocide where 800,000 people were massacred by their fellowmen, as the world watched and did nothing.