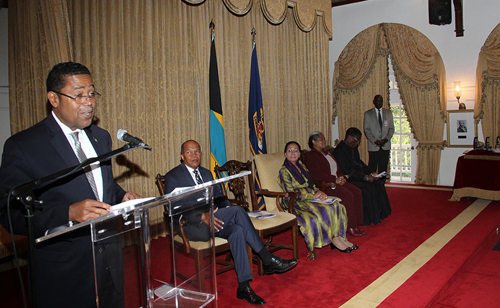 NASSAU, The Bahamas – The recent graduation of almost 30 nurses from the Public Hospitals Authority's Clinical Care Nursing and Medical Surgical Nursing Specialty Training Programmes accredited by the Royal College of Nursing, United Kingdom, is a "remarkable milestone" for the public healthcare sector of The Bahamas, Minister of Health the Hon. Dr. Michael Perry Gomez said.
Dr. Gomez said the graduations are also a further testament as to how far the country has progressed in developing and modernizing its public healthcare sector. While both Specialty Programmes are accredited by the Royal College of Nursing, the Medical/Surgical Nursing Specialist Programme for Registered Nurses is the first of its kind in The Bahamas and indeed the region.
Public Health nurses can now receive accredited "graduate-level" training in these key areas right at home in The Bahamas.
"That such a well-respected body (like the Royal College of Nursing) stands behind these advanced nursing programmes should assure our patients and the general public of the high quality of training and strong evaluation standards that undergird these certifications," Dr. Gomez said.
The graduations took place locally as healthcare officials continue their push towards universal health coverage for all Bahamians through the introduction of National Health Insurance, scheduled for January, 2016.
Dr. Gomez said Universal Health Coverage will "create equity of opportunity for good medical care" by ensuring that every Bahamian has access to health insurance "at the time they need it most."
NHI will further ensure that every Bahamian and legal resident has access to healthcare services from both private and public physicians, clinics, hospitals, pharmacies and Allied Health providers. Healthcare officials say this will eliminate financial burden on individuals, improve Bahamians' healthcare outcomes, reduce catastrophic health events and reduce emergency room visits.
Implementing the structures that will ensure access to, and training in, advanced nursing fields such as Nurse Practitioners, Clinical Nurse Specialists, Nurse Anesthetists and Nurse Midwives, for public health nurses (those working under the auspices of the Public Hospitals Authority and the Ministry of Health/Department of Public Health), will help serve as cornerstones to achieving those goals.
Health officials have already written draft legislation that will allow for amendments to the Nursing and Midwife's Act that will establish a regulatory framework and increase responsibilities for advanced practice nurses fields such as Nurse Practitioners, Clinical Nurse Specialists, Nurse Anesthetists or Nurse Midwives. That draft legislation is expected to reach Parliament before the end of 2015.
"Just a few years ago, these graduating nurses would have had to travel abroad to receive this level of training and professional certification. Thus, it is a remarkable milestone that this is no longer the case because the highest standards of professional development for nurses is now available [locally]," Dr. Gomez said.
"Their graduation represents the pinnacle of professional nursing in The Bahamas and their successful completion of graduate-level training right here at home is a testament of how far they have come in their careers. It is also a testament as to how far we have come as a nation in developing and modernizing our public health sector," Dr. Gomez added.
Dr. Gomez said Continuing Education for busy professionals is never an easy undertaking especially when as rigorous and challenging as the programmes the nurses undertook. He commended them for their diligence and dedication in completing the nursing specialty courses, adding that the country will benefit from their diligence and dedication.
The Health Minister applauded officials at the Public Hospitals Authority for their vision and leadership in ensuring the availability of advanced, clinical training for nurses through its ongoing partnership with the Royal College of Nursing in the United Kingdom.
The partnership, Dr. Gomez said, is allowing the PHA to expand the opportunities for Registered Nurses "across the Authority and the public health system" while simultaneously expanding capacity and improving the quality and standard of nursing care provided to patients – a critical component of universal healthcare – by offering fully accredited specialty programme areas that represent the highest priority for the country's public hospitals.
"The Royal College of Nursing accredits learning and development initiatives around the world to guarantee that their programmes are up to date, of the highest quality, and effective in educating nurses and the wider healthcare family, and promote best practices," Dr. Gomez said.
"If there is anyone who can appreciate the value and expertise of a good nurse, believe me, it is a physician. That so many of them have successfully completed the challenging programmes of advanced specialty training in clinical care nursing and medical/surgical nursing, is a testament to their professional determination and professional ability," Dr. Gomez added.