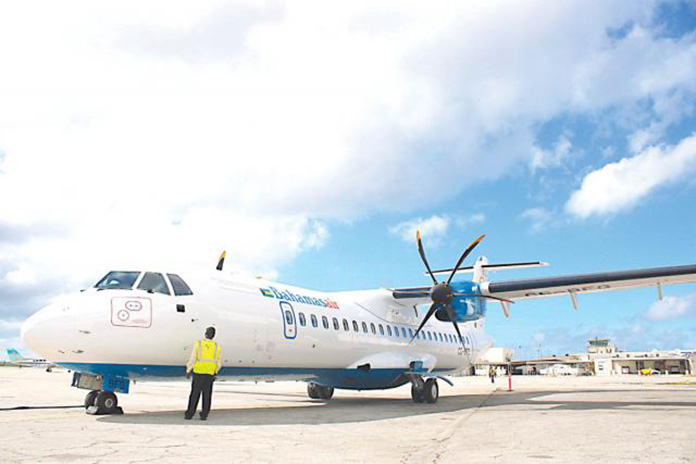 Fort LAUDERDALE, FL – April 16, 2018 –The Islands Of The Bahamas is the closest landfall from the U.S. mainland and a mere 50 miles away, Bimini Island in the Bahamas is the closest.
Bahamasair, The Bahamas national flag carrier, has announced that beginning May 3rd, they will begin non-stop service between, Miami, Florida and Bimini.
The flight between Miami and Bimini is about a half hour with the new service using a 50-seater aircraft the ATR 42. Flights will depart Miami at 1:30 pm and arrive Bimini at 2pm and leave out of Bimini at 2:30 pm. The flights are scheduled to run four times weekly, beginning in May, Sundays, Mondays, Thursdays and Fridays.
Tracy Cooper, Managing Director, Bahamasair Holdings Ltd says of the new service, "The addition of Bimini to our list of destinations underscores Bahamasair's unwavering commitment to expanding and supporting our tourism product."
Bimini is known as the gateway to The Bahamas, and although small in size is outstanding for many reasons among them some of its well-known visitors including Ernest Hemingway and the late Rev. Dr. Martin Luther King Jr.
The tiny Island, which is a seven and a half miles long, and nine square miles, boasts some of the most beautiful aquamarine waters in The Bahamas. Bimini is known as the Big Game Fishing capital of the world and most interestingly its main attractions include The Fountain of Youth, a Healing Hole and the Lost City of Atlantis.
Accommodations on the Island include Bimini Big Game Club, the Bimini Blue Water Resort Bimini Sands and the Sea Crest Hotel and Marina.
One of the latest hotels on the Island is the Hilton at Resorts World Bimini. The new 750-acre luxury beachfront resort features, the ultimate in first class accommodations, the largest marina complex in the Bahamas, world-class restaurants, a spacious casino and a lavish spa and fitness center.
"As the national flag carrier, we are committed to building relationships with industry partners like Resorts World," Mr. Cooper said, but added that, " It is our belief that the launch of this new service will benefit all the island's resorts and residents alike."
The Managing director also said that, "Bahamasair is proud to launch this new service into one of our country's most beautiful destinations."
For additional information on Bahamasair or the new service, contact them at 800-222-4262 or visit them at https://www.bahamasair.com/