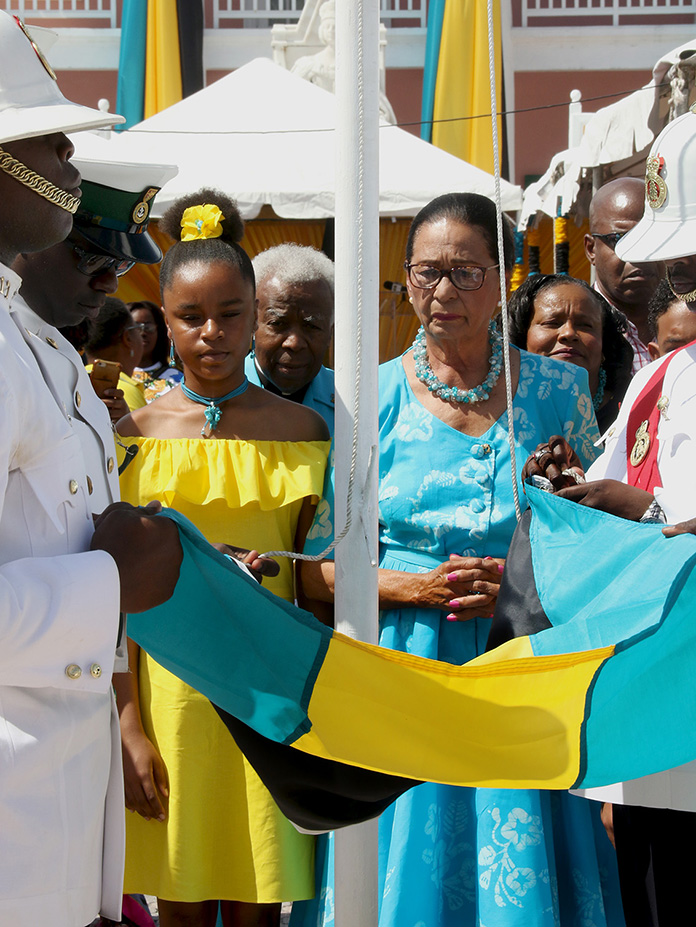 NASSAU, The Bahamas – Rawson and Parliament Squares in the city centre bubbled with Bahamian pride in celebration of the 44th Bahamas Independence Anniversary National Pride and Flag-Raising Ceremony on Friday. Bahamians of all ages gathered in "the square" dressed in their Bahamian colors to enjoy the formalities, sights, sounds, and fanfare. The House of assembly and all of the surrounding area was also adorned in the national colors: black, aquamarine and gold.
Moderated by eloquent child speakers Sara Williams, Reio Darling, Reanno Todd and Anthony Eccleston, the opening ceremony of National Pride Day was gracefully and effortlessly facilitated. Elegantly styled in an aquamarine Bahamian Androsia print gown, Governor General Her Excellency Dame Marguerite Pindling delivered beautiful and encouraging remarks on behalf of the event. She reminded all, "National unity is the awareness of a common identity and purpose among the citizens of a country" and that, "Much more work remains to be done for nation-building is an endless task."
It is indeed an endless task as new generations of Bahamians will continue to shape the bright future of The Bahamas. As The Governor General commented, "They too must share in the process of continuing the building of our nation, and it is our duty to pass on to them the established values and principles of our Nation."
The magnificence of young Bahamian talent was sufficiently showcased as participants and audience enjoyed cultural musical selections by The Bahamas National Youth Orchestra and The National Boys Choir.
As Bahamian pride filled the atmosphere, Dame Marguerite advised, "We must fully commit ourselves to maintain this precious land as a free and Independent nation where we live together in love and unity." She ended by heartily wishing The Bahamas a happy 44th Independence Anniversary.
In closing, Dame Marguerite, in the company of the young Bahamian moderators, was ceremoniously greeted by members of the Royal Bahamas Defence Force and the Royal Bahamas Police Force carrying the Bahamian Flag. Together, they hoisted the Flag in the centre of the square. Everyone in attendance then sang the National Anthem.
There could be no confusion as to what all the celebration was about: The delicious smell of Bahamian dishes on sale was not easy to pass by. Both local residents and tourists alike were captured by the sweet aroma of Bahamian food. Even homemade ice cream was crafted in the Bahamian national colors. There was also an array of festive Bahamian-coloured garments on sale along with unique accessories and trinkets to choose from.