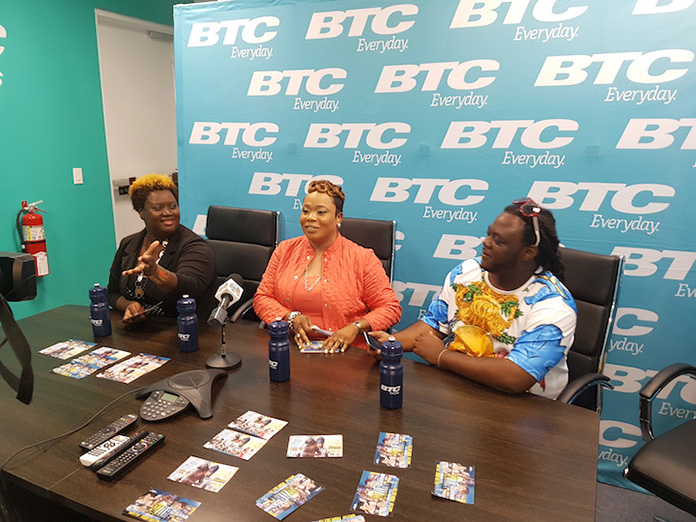 Freeport, Grand Bahama – BTC's commitment to the country's musical and cultural talents has remained at the heart of the company's community outreach initiatives for years, with Brand Ambassadors like Wendi, Dyson Knight, D-Mac and countless other local artists at the forefront of campaigns to designed to entertain and encourage a new generation of Bahamian talent.
Equally important to BTC has been the crop of new and talented promoters, DJ's and other entertainers who continue to raise the standard of artistry both locally and in the region. Over the past few years BTC has lent the strength of its brand to the Fire & Ice Concert Series presented by Grand Bahama Island's top promotional brand MVP Entertainment. Since its inception, the MVP team headed by Damien Thompson has been responsible for bringing regional and international stars like Richie Spice, Capleton, Taurus Riley and French Montana to the island.
Now in its third installment, BTC once again joined forces with MVP Entertainment as the title sponsor for this year's Fire & Ice Series which was headlined by Reggae sensations Sizzla and Jah Cure in Freeport on the Independence Holiday Weekend. As the title sponsor, BTC made a generous presentation of a blend of cash and in-kind donations valued at ten thousand dollars which assisted promoters in pulling off the event not only on Grand Bahama but which also featured a special Abaco concert which saw Sizzla perform in Marsh Harbour for the first time in more than a decade.
"MVP Entertainment has done an amazing job with this brand over the years, he has built a following locally as well as throughout the Bahamas" noted BTC VP Eldri Ferguson Mackey.
"Damien and his team have been nothing but professional and his passion for bringing quality entertainment and showcasing quality Bahamian talent is impressive. BTC is proud to be a third-time sponsor of this event" she said.
This year's event like ones before it also provided performance opportunities for local talent like Honey P, Wizzard and Links all from Grand Bahama.
"Around the whole Bahamas we find a lot of talent and that's something that's something that MVP Entertainment has sought to showcase on the larger scale" said Damien Thompson. "It's also the reason we launched a massive social media competition for singers, to really show off how much talent is out there!"
With hundreds of entries submitted, approximately 40 contestants were chosen as part of a Facebook competition which showcased talented voices from around the country. Once chosen by the Facebook audience, the final two contestants battled on stage for the chance to win a brand new I-phone 7 courtesy of BTC who also provided countless other Branded items and other devices for giveaway during the concert. When the dust settled, Ciera Jordan Sweeting beat out the stiff competition to take the top prize.
The event which was endorsed by the crème de la crème of Grand Bahama's own talent pool also proved to be a major injector of capital into the Grand Bahama economy.
"Hotels, specifically the Grand Lucayan and Pelican Bay Resort were booked and reported bookings specifically for this concert" noted MVP Entertainment spokesperson Yolanda Hanna. "Overall this year's event turned out to be an amazing one and we're excited about the future!"