Is the Minnis Government facilitating Human Trafficking into the United States via the Bahamas?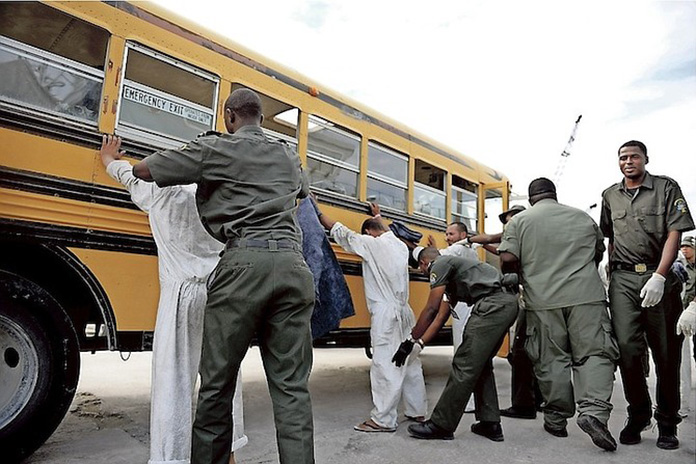 Nassau – Bahamas Press is investigating a serious crime now unfolding deep inside the Government and it is centered on the Department of Immigration!
Sources close to the investigation tell us a group of Bolivians attempted to enter the Bahamas via a South American flight some days ago. Guided by intelligence, the Bahamas Border teams suspected that the passengers – who presented themselves as guests to the capital – were indeed attempting to smuggle their way into the United States of America.
After an inquiry by the Immigration officers the Bolivians were detained and sent to the Detention Centre. But guess what?
The bold Minister for Tourism, Dionisio D'Aguilar, overreached and telephoned into the Detection Centre requesting the release of the Bolivians. WELL, WAIT! Not even Brent Symonette.
Later, we understand, a telephone call from an authority within the Minnis Government requested that the Bolivians be allowed to land and be released to walk up and down in the country. That was done.
But just days following these events of the Bolivians being released, those same released guests were caught attempting to enter a vessel at the Port of Lucaya, intending to smuggle themselves into the United States.
Data inside the Department of Immigration reveals that a number of persons who have entered the Bahamas have not left and have violated [overstayed] the invitation.
Recently the United States Embassy has expressed serious concerns about the Immigration Department. However, we believe this new updated report gives exposure to the issues.
What does Minister D'Aguilar have to do with immigration? What does he know about the Bolivian transit between South America and North America via the Bahamas?
Why did he become concerned about the entry of Bolivians, who local Bahamian intel had already determined to be potential risks to the national security of the United States of America?
Bahamas Press expects our US partners to pay close attention to this development and review all involved!
D'Aguilar has some explaining to do and we want him to answer one simple question: Who asked him to call into the Detention Centre to seek the release of the Bolivians. Remember now: THIS IS BAHAMAS PRESS!
We report yinner decide!