Bostwick don't know how the magazine with 10 live rounds of .22 amo got in his bag which also contained his personals items [passport] and his medication inside…So he didn't see the clip when he checked in at the airport presenting his passport?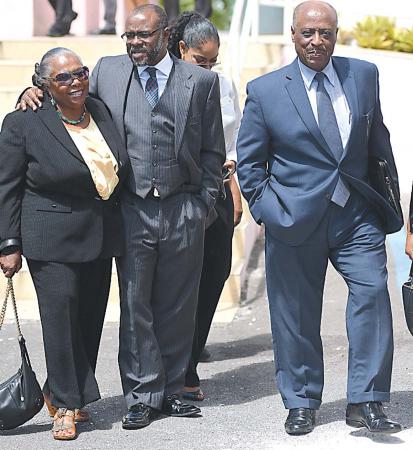 By LAMECH JOHNSON
Tribune Staff Reporter
ljohnson@tribunemedia.net
THEN-Senator John Bostwick Jr expressed incredulity when questioned about the magazine clip and ammunition found in his backpack, a detective testified yesterday.
Corporal Latoya Major-Rolle of the Central Detective Unit based in Freeport, Grand Bahama took the witness stand to give an account of her involvement in the investigation into the discovery of 10 live rounds of .22 ammunition, allegedly found in Bostwick's luggage on May 17, 2014.
Ms Major-Rolle said when she asked Bostwick Jr about the ammunition when he arrived on the island, "He said 'I travelled here to stand in a wedding. I valet parked at the hotel. I don't know how these items got into my bag.'"
On the day in question, airport security allegedly discovered a quantity of ammunition in his luggage during a check while in the domestic section of the Grand Bahama International Airport.
In yesterday's proceedings before Magistrate Andrew Forbes, Ms Major-Rolle said that around 7.36pm on the day in question, she was on duty at CDU when she received certain information from reserve Inspector Franklyn McCoy.
"As a result of that information, I, along with Constables 3230 Demeritte and 3429 Curtis proceeded to the Domestic Section of the Grand Bahama Airport," the detective said.
At the airport, she saw and spoke with Corporal Jenika Arthur who gave her certain information.
"I also observed on the conveyor belt, a black pinstripe backpack with a Bahamas 40th anniversary pin, a magazine (that) contained ammunition, male dress shoes, medication and other personal effects."
A male was pointed out to her and "he identified himself to me as Senator John Henry Bostwick II and I identified myself to him as a police officer".
She said a colleague of hers photographed and secured the items and around 9.30pm at CDU, the officer handed over the exhibits.
At 11.50pm, Ms Major-Rolle saw and spoke with the then-senator during a written record of interview under caution.
The detective said he was asked a series of questions when he gave answers, but declined to read over and sign the document.
The officer said she spoke with Superintendent Kendal Strachan the following day and was given certain instructions which led her to the Grand Lucayan Beach Resort where she took a witness statement from an employee of the hotel before viewing the hotel's surveillance footage for the previous day.
Police prosecutor Superintendent Ercell Dorsett asked the officer if she recalled what questions she posed to Bostwick Jr during the record of interview.
Ms Major-Rolle said she asked him for the date of and his purpose for travel to Grand Bahama in which he answered that he, his son and his son's mother came there that morning to participate in a wedding.
He was also asked if he possessed any license to hold a firearm. Bostwick Jr said he had a license for a 12-gauge shotgun, which he had renewed annually for the past 24 years. He said he did not have a certificate to possess a firearm, "but he changed his answer to no comment," she testified.
She said he was shown the items that were found in the bag. Bostwick Jr reportedly told her he had left his bag in the vehicle while he participated in the wedding.
In cross-examination, Elliot Lockhart, QC, asked the witness if she saw "footage of him putting the backpack in the trunk?"
"Yes," the witness said.
"Did you speak with Mr Bostwick after viewing the surveillance?" the lawyer asked. The detective said she did not.
"And he told you he didn't know how the items got in his bag," the lawyer asked.
"Yes, sir," the witness said.
"Did he at any time change his position about those items?" Mr Lockhart asked.
"No, sir," Ms Major-Rolle said.
"Am I correct in saying that you gave the items to (Corporal) Dawkins to be checked?" the lawyer asked next. The detective said this was so.
"And there were no print of John Bostwick Jr on them?" the lawyer asked.
"No, sir," Ms Major-Rolle said.
"Did you check to see if a wedding took place at the hotel?" the lawyer further probed. The detective said she did not.