<<< Minister for Immigration, Branville McCartney.
Nassau Bahamas – Bahamas Press is reporting minister with responsibility for immigration matters in the country, Branville McCartney, has fired his chauffeur following a bust-up during the Free National Movement 2009 Convention early this month.
The driver we are told was asked by the minister to stay on the job for additional time due to the Convention. The driver we understand ended up working all day and all night in an effort to satisfy the minister's request. We are told, however,  as the wearied driver pleaded with the minister to allow him time to go home to his family around 3am on the second night of Conclave, a shouting rage by the minister ensured. We are told the minister threw words like a drunken sailor as he berated his driver.
We've been reliably informed the minister, then advised his driver if he leaves the Convention floor before he was told, he should stay home. It was then on the following day the minister advised his driver of his termination and that he was relieved of his duties.
Just hours following the episode, party leader Rt. Hon. Hubert Ingraham advised the nation that his government had fired no public servant, yet, McCartney exercised his own judgment and sent home another public officer who now joins an army list of others who are daily victimized, terminated, dismissed, retired, Stopped, Reviewed and Cancelled from the public service by the 'Mugabe' administration.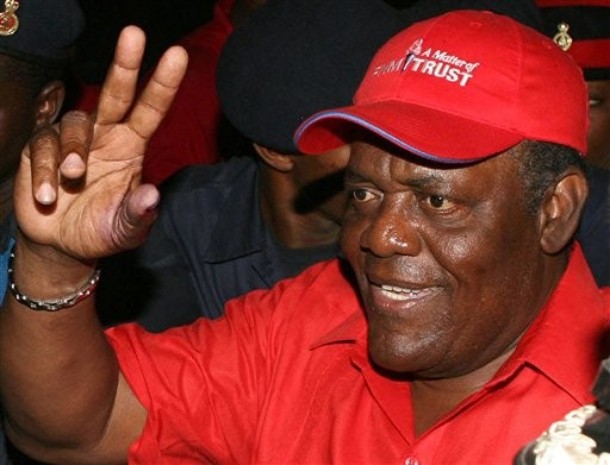 Bahamas Press cries SHAME on the minister who took it upon himself to fire in harsh judgment a young man, while he [McCartney] staggered somewhere around the table of spirits and strong drinks during the FNM Parley.
McCartney we believe dashes his chauffeur's future; laying it upon the bloody red altars of slaughter. An altar where scores of axed public servants – now the sacrificed – are decapitated by this 'WICKED' FNM Government in these hard, rough economic times.
Why would the said "model minister" [McCartney] treat Bahamian workers in this way? AGAIN WE CRY SHAME ON THE MINISTER for his rash actions and call on him to immediately reverse his decision against the young man.
Outside that we ask the question, where is John Pinder again? Indeed it is a Matter of TRUST, [WITH ANY PAY]!
We need Change!