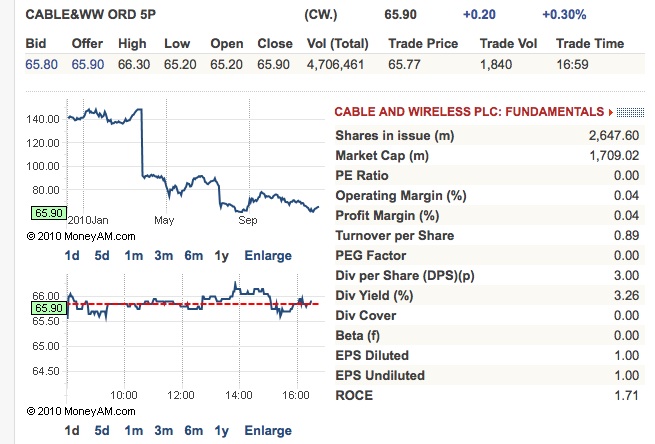 By Rupert Neate,
City Reporter, Telecoms
More than £300m was wiped off the paper value of Cable & Wireless Worldwide (CWW) by lunchtime after it warned of a "very significant slowdown" in British public sector contracts. Shares in the company, which provides telecoms and video conferencing services for a host of government departments, dropped 14.5p, or 17.3pc, to tumble to 69.1p.
The shock profits warning is likely to lead to a shareholder revolt at its annual meeting on Wednesday. Shareholder groups have already warned about excessive executive remuneration at the company. Before it split into two separately listed companies earlier this year, Cable & Wireless suffered one of the biggest shareholder rebellions last year when 38pc of the shareholder register failed to back the company's pay policy at a fiery meeting. The company's highly controversial long-term incentive plan (LTIP) paid out £32m to senior managers last year.
In May, George Osborne, the Chancellor, announced plans to cut public spending by an initial £6bn in order to reduce the nation's £156bn budget deficit.