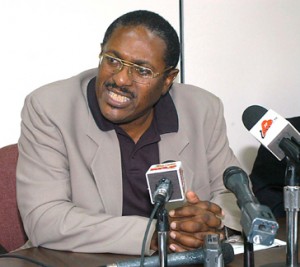 Press Statement
By Bradley B Roberts
December 7, 2010
Roberts respond to Neil Hartnell's Opinion Column Date Nov 26th 2010.
The Tribune failed miserably to live up to its motto when it refused to publish any information from my address at the PLP's Town Meeting on BTC. The Tribune also failed to carry an Ad on the meeting which was paid in advance but instead decided to publish weeks later an OPINON on my address which I read with much interest. This is clear discrimination by a media outlet that's licensed to serve the public news.
I ask the following questions in regards to Hartnell's Opinion:
Is Mr. Hartnell of The Tribune suggesting that the $212 Million profit that BTC made while at the time myself and the Honourable Marcus Bethel were Ministers during 2002 to 2007, compared to $112 Million BTC earned while the FNM was in charge (1994 -2002). Was this a fable?
Is Mr. Hartnell suggesting that when the FNM left office in 2002 that the $4.7 Million in BTC's bank account was a fable? When the FNM returned to office in 2007 the $130 Million they found in the BTC bank account was that also a fable?
I am aware Mr. Hartnell that the rule of thumb in the Telecom Industry is that when liberalization is introduced the Incumbent loses 30% of market share. This rule applies to privately owned Telcos or Government owned Telcos. Except in the case of LIME (C&W) Jamaica where a company with little or no experience in Telecoms (Digicel) took 60% plus of Market share from C&W a privately owned Telco who had been in the business for 140 years.
Mr. Hartnell I am aware that:
In 2000 BTC's Revenues for International Long Distance calls were $103 Million while the Revenues for the same stream in 2007 were just $27 Million.
In 2000 BTC had 32,000 Cellular Customers and 114,000 Landlines.
BTC now has 330,000 plus Cellular customers and 134,000 Land Lines.
65% + of BTC's revenues come from Wireless.
There are no Long Distance companies existing in the world today.
Did you read the Profile of C&W? The profile indicates that C&W have 600,000 Broadband customers, 1.8 Million Land Lines and 8.1 Million Cellular customers. Does this suggest that C&W is a Wireless Company?
C&W's Financial Interim Report for the First Half 2011 published November 4, 2010 indicates that all major Key Financial Indicators for the Caribbean have gone south. And, this follows a similar report of decreases for 2010. C&W Jamaica has experienced losses of J$3 Billion plus in the last three consecutive years. Does this mean that C&W is approaching "Junk Status?"
Two months ago it was rumored that AT&T was about to purchase C&W and a week after the AT&T rumor a new rumor emerged that SingTel (Singapore Telecommunications) was going to purchase C&W. Does this suggest that C&W has a problem?
Up to 8 years ago C&W:
Was a Monopoly Incumbent in the English speaking Caribbean
They were also the Regulators.
They influenced the Telecoms Acts and Regulations in these countries just like BaTelCo did in The Bahamas.
They wrote Policies that protected the monopolies of their companies well into 2020 until there was a revolt by Caribbean Governments.
Mr. Hartnell did you know that:
AT&T last year petitioned the US Government to make the Land Line Networks in the United States obsolete?
Are you aware that the US Government allocated more than $8 Billion to continue the deployment of Broadband which the FCC estimates could cost up to $350 Billion? Is this in a privatized, liberalized Market Mr. Hartnell?
Australia's Government has budgeted US$33 Billion to construct its National Broadband Network?
Space would not allow here me to tell what other Governments are doing.
Mr. Hartnell you failed to state in your OPINON that:
The "gold" that BTC "mined from its customers" all stayed in The Bahamas.
You failed to state that that "mined gold" paid more than $95 Million in 2009 and $30 Million in 2008 to the Government of The Bahamas in Dividends not including BTC's Franchise Fee of $1 Million per Quarter, License Fees, Fees to URCA and Government Telephone Bill right off of more than $15 Million.
No Mr. Hartnell I am not playing a political game nor am I pandering to the two unions. The sale of a State owned Enterprise is of NATIONAL importance. It is beyond Politics and Unions.
For the record: I don't believe I am King Canute. I don't believe I can hold back the tide. But I believe that I, with the help of others can build seawalls to stop the tide from overflowing the land.
For the record:
I believe in Privatization.
I have confidence Bahamians can lead BTC successfully in a liberalized market.
I am not taking credit for everything thing that happened at BTC. As a former employee of BaTelCo I have seen BaTelCo/BTC led by Bahamians keeping BTC on par and sometimes leading the Caribbean in Telecoms which was once led by a privately owned C&W.
As a Bahamian Mr. Hartnell I believe that selling 51% of BTC to Cable & Wireless for $210 Million is a "Sweetheart Deal" for C&W and a bad deal for Bahamians for the following reasons:
o   The" Sweetheart Deal" leaves $15 Million in Cash in the bank for a Company that you toot is one of the best of the best. Why? This cash discounts the $210 Million to $195 Million.
o   The Government Guarantees the Employees' Pension which has a deficit of $60 Million. This discounts the $210 million further.
o   C&W will up the EBITDA 15 to 20 points is this not "on the backs of the Bahamian people" Mr. Hartnell? Does this mean that BTC owned by C&W a foreign strategic partner "can mine the gold in the pocket of more than 300,000 Bahamian consumers, who have no choice and are forced to put up with whatever prices and service quality the monopoly (C&W) charges" for the next three years? Mr. Hartnell I am using your quote.
o   Do you not consider selling BTC for net $143 Million is not a fire sale?
o   The Government has created a Private Monopoly from a Public Monopoly for the next three years. I thought you decried monopolies.
o    Even for the next 5 years there will only exist a duopoly.
o   What technology does C&W have that BTC does not have Sir or that BTC does not have in the works?
o   What makes it so SINFUL for Bahamians to want to own their own Telecommunications in their own country Mr. Hartnell?