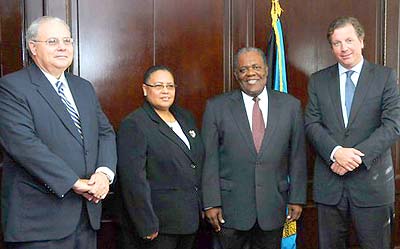 First Caribbean International Bank executives paid a courtesy call on Prime Minister the Rt. Hon. Hubert Ingraham at the Office of the Prime Minister, Cable Beach on January 29th, 2009 (THE BOSSES WERE IN TOWN!!!). What was said to the PM during that meeting? ONLY Bahamas Press MEDIA OUTLET knows. Pictured from left are Michael Mansoor, Group Chairman; Sharon Brown, Managing Director Bahamas Turks and Caicos; Prime Minister Ingraham and John Orr, Chief Executive Officer.
**************************************************************
EDITOR's NOTE: BP has decided to republish this article, which was on May 4th, 2009. Bahamas Press was scoffed, mocked and laughed at as being a counterfeit site when this was published. We were accused of misleading persons of the community when we asked the question, "IS First Caribbean Bank on the Verge of Collapse?" We posed that question as we had attained a list of employees whose jobs were in jeopardy.
Bahamas Press has now learned that Sharon Brown was given a magnificent package in the 6 figures. We've been told that she will land on her feet as the possible financial secretary in the MUGABE led 'PAPA DOC' style Ingraham Government.
**************************************************************

Nassau, Bahamas: We at Bahamas Press just might have saved 20 workers at First Caribbean Bank from getting axed at the company in its downsizing exercise now underway. And those few should be grateful to this website of TRUTH!
BREAKING NEWS NOW COMING TO BAHAMAS PRESS CONFIRMS THAT SHARON BROWN WILL BE THE FIRST TO GO AT FIRST CARIBBEAN INTERNATIONAL BANK (BAHAMAS)! She will be forced to accept an early retirement package and will take up a senior post in the Ingraham Government.
Bahamas Press has also learned that in the coming days, a press statement will be issued from the Bank head office in Barbados to confirm Ms Brown's retirement from the organization. We've also learned that coming as early as next week travelling to Nassau will be an officer from Barbados, who will carry out an OPERATIONAL REVIEW AT THE BANK. Following that review the Bank will be streamlined. That exercise will conclude with workers at the FCIB (Bahamas) being sent home.
In an interview with the DUTTY 'Toilet Paper' FCIB's (SOON TO BE RETIRED) managing director Sharon Brown said Tuesday, "At this point, we've not made any decision."
Bahamas Press wonders why would the DUTTY 'Toilet Paper' interview a member of the local office here in Nassau, when the decision is not being made in the Bahamas?
Like Clico (Bahamas), FCIB takes it instruction from its head office on Broad Street, Bridgetown, St. Michael, Barbados. Therefore the DUTTY 'Toilet Paper' should know that if they wish to get a real assessment of the downsizing decision, they ought to contact Mr. Michael Mansoor, Chairman or John D. Orr at 246-367-2300. They're the persons that make the decision for the regional operations, NOT Sharon Brown.
The Press statement will be release from Barbados  between now and Monday morning.

But you know Bahamas Press bloggers, when you want to deflect news the way the 'Toilet Paper' does, you go to everyone for an answer, except the real source in hopes to DEFLECT the truth. Typical Tribune fashion, WHY? Because they're WUTLESS!
STAY TUNED TO BAHAMAS PRESS ON THIS FLUID DEVELOPING STORY, STAY TUNED!