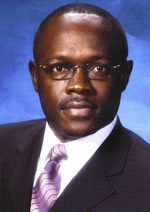 <<< Chester Cooper, BAF Senior EXECUTIVE.

We've asked some IMPORTANT QUESTIONS to British American Financial (BAF). We have requested from the company a copy of its AGM report. THAT HAS BEEN DENIED.
Bahamas Press wonders, could this be the same British American Insurance Company, said to be bought by Bahamians in 2007? Could it be that the company was never sold to BAF and possibly that's why no dollar figure was ever given? What is the current financial state of BAF? Where are its investments held outside the Bahamas? Are there any investment for BAF held in CL FINANCIAL BASED IN TRINIDAD? What is the name of the assurance company that insures BAF insurance policies?
And our main question, if what both The Bugle and the Trinidad Guardian wrote about investments by British American Insurance being on the books of CL FINANCIAL in TRINIDAD is indeed so, we wonder whether or not BAF, (the new owners of British American Insurance Company), is indeed that company mentioned registered in the Bahamas?
WE'VE notice that the company has published ads all across the WUTLESS MEDIA, and we know why. Now, will BAF answer us on these items, or must WE reveal what we've found? WE AWAIT FOR A RESPONSE FROM THE COMPANY.