It is no question Hubert Ingraham is a political master when it comes to running a campaign. His skills are enough for us to say he is simply the best there is, when it comes to executing a campaign message. And it is that skill we know the PLP is not ready to test. The PLP has no public relations team. In fact its team members to date are FRACTURED TO THE CORE, AND WILL NOT BE REPAIRED ANYTIME SOON.
However we note here in celebration of the second year anniversary of the FNM government, that another jewel is placed in their Bahamian crown. The FNM government will deliver to the Bahamian people this May a NATIONAL UNEMPLOYMENT BENEFIT!
The Unemployment Benefit through the National Insurance Board is coming at a time when thousands of Bahamians have not worked for several months or years, and will relieve financial hardship among individuals as well as boost consumer demand for goods in services across The Bahamas, Prime Minister Hubert Ingraham said during debate on Resolutions to implement regulations for the new Benefit scheme.
Prime Minister Ingraham also outlined the regulations, providing answers to many of the pertinent questions associated with the new benefit.
We present Prime Minister Ingraham's comments to members of the media on Sunday 5th, May, 2009.
THE PRIME MINISTER: It is a great pleasure for me to move this and two other Resolutions to facilitate the introduction of unemployment payments as a benefit under the National Insurance Scheme.
It has been many years since I first promoted and publicly expressed my desire to do so. Having determined to retire from political leadership in 2002 I thought that it was one of those things left to be put in place by a successor in office.
Thanks to the good people of The Bahamas, it is for me and my Party to do it. Today we fulfill a promise made in every election Manifesto upon which I was able to victoriously lead the FNM to Government.
Upon attaining independence most, if not all countries seek membership in the International Labour Organisation – ILO.
One of the conditions for membership in the ILO is adherence to the principles of its social security Conventions which require members to provide certain minimum social benefits. Five basic benefits are required of which a minimum of three are mandatory:
* Unemployment,
* Old-age pensions,
* Employment injury,
* Invalidity, and
* Survivors benefits
The Bahamas chose four (4): old age pensions, employment injury, invalidity and survivors benefit.
Now we elect to introduce unemployment.
This will complete the basic benefit package recommended by the ILO.
National Insurance is a mandatory scheme; it is universal requiring by law, contributions from all employed persons and by all employers.
At its commencement it was determined that a contribution rate of 8.8% of wage up to a ceiling of $110 per week would be imposed. The scheme provides benefit payments to contributors irrespective of means/income.
Assistance payments are also provided to others who satisfy a "means" test.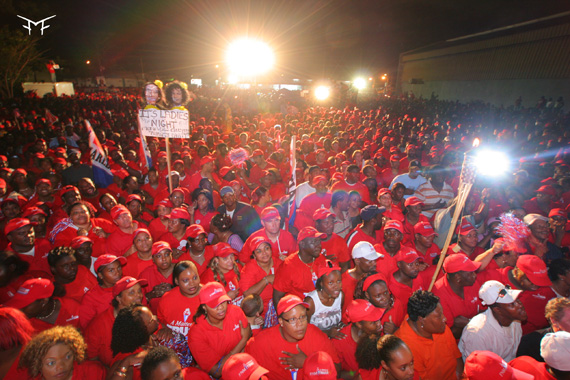 FNMs gathered all along Mackey Street to hear Prime Minister Elect Hubert Alexander Ingraham on May 2nd, 2007. Bahamas Press will bring you photos and audio of the May 2nd, 2007 general election.
(CLICK BELOW TO READ MORE)
Only employers are required to pay contributions for industrial injury benefit. At the scheme's commencement that contribution was set at 2% of insurable wage. The remaining 6.8% of the contribution rate is shared equally by employers and employees. Hence, the 60%-40% ratio for contributions that exists today.
Simply stated for each $100 of wage, the employer pays $5.40 and the employee pays $3.40.
The regulation to enable industrial injury benefit to be paid did not come into effect for 6 years after the commencement of contribution payment by employers (November 1980).
By 1980 it became clear, following upon an actuarial review, that a 2% contribution allocated for industrial injury was excessive.
At that time, the amount standing to the credit of this branch of the National Insurance scheme was $40 million.
After much discussion, it was agreed that the accumulated $40 million in the Branch would be transferred to a Medical Fund, and that this Fund would be used to improve health infrastructure in the country. Hence, today, we have a network of some 18 clinics around the country which have been turned over to the Ministry of Health.
We propose to further expand this Branch to include a prescription drug benefit.
Also it was recognized that the allocation of 20% of contribution for short term benefit payments (e.g. maternity, sickness and funeral benefits) was excessive. On the other hand, the allocation of 57% to the Pensions branch was inadequate.
As a consequence, in 1985 the allocation of contribution between the four branches of the scheme was adjusted:
* Short-term benefits – 16.5&
* Pensions – 73.9%
* Industrial benefits – 8.5%
The newly established Medical Branch was allocated 1.1% of contributions.
This distribution has remained in place until today.
Upon the approval and coming into effect of the National Insurance (Financial and Accounting Regulations) (Amendment) Regulations presently before Parliament the allocation between the Branches of the Fund will be as follows:
* Short-term benefits – 25%
* Pensions – 67%
* Industrial benefits – 7.5%
* And Medical – .5%
The funds available under the Medical Branch have proved more than sufficient to fund the expansion of the community health care facilities network. To fund the introduction of an unemployment benefit, $20 million will be taken out of this Fund. All of the Funds in the Industrial Injury and Medical Branch were contributed by employers.
As of December 31st, 2008, the balances in these two Funds were as follows:
* Industrial Benefit Branch reserves: $ 105 million
* Medical Benefit Branch reserves: $ 70 million.
When the $20 million is transferred from the Medical Branch to the Fund, the initial cost of an unemployment Benefit, the net cash remaining in that Branch inclusive of Investment income will be $ 50 million.
The Medical Benefit Branch receives about $1.7 million in contribution income and over $2.5 million in investment income each year.
Medical Payments made by NIB resulting from job related injuries over the past four (4) years are as follows:
* 2005 – $9.7million
* 2006 – $11.4
* 2007 – $11.6
* 2008 – $14.8
The Medical Care component of these payments is:
* 2005 – $5.5 million
* 2006 – $6.9
* 2007 – $6.9
* 2008 – $9.5
Medical Care covers:
* cost of travel from Family Islands to New Providence – transport, accommodation & subsistence – sometimes these expenses are higher than the cost of treatment
* cost of transportation from The Bahamas to Florida – transport, accommodation & subsistence. Similarly associated costs are often times greater than the cost of treatment
* Injured patients and their physicians most often select Doctor's Hospital
* Where travel is involved, sometimes NI covers cost of an escort
* NI often sends persons away if the relevant treatment is not available locally. NI may facilitate a 2nd opinion locally, but sometimes this may take place abroad and covered at local equivalent rates.
* Where medically necessary NI covers home health care
* National Insurance purchases medical equipment, beds, toilet seats etc
* If necessary, renovate living space to accommodate special equipment – beds, wheel chairs etc
* Install generators to ensure certain equipment are always on
* Covers cost of prosthetic devices
Recent Cases with Significant Costs Burn victim:
* Airlifted to Florida
* Before aeroplane touched down, NI had to pay $500,000
* Expenses totalled over $700,000
* Patient died 9 days after sustaining injury
* Several quadriplegics in recent years – vehicular accidents
* One in 2008 for which costs already exceed $400,000 – twice the amount spent on two other older cases of quadriplegics
* Another 2008 case involved an older gentleman and higher costs associated with his advanced age
More frequent cases with significant but lower costs:
* Gun shot wounds (usually cost between $60,000 and $90,000; Hospitalised for a few days)
* Back & other major orthopaedic surgeries can cost in excess of $50,000.
Soon Parliament will be asked to approve a number of changes to the National Insurance Scheme – 35 years after its commencement.
Members will soon have for consideration the Actuarial Review of the National Insurance Fund undertaken as of December, 2006 not yet publicly available, along with the report of the Social Security Reform Commission of 2005 – also not yet publicly available.
These documents will be placed on the NIB and the Government websites so that all may be read about the progress, challenges and recommendations made to enhance our social security programme.
Before I proceed further I wish to commend the Board of NIB and especially its chairman, Patrick Ward, its Actuary, Derek Osborne, and its Director, Algernon Cargill, for the commendable work they are doing at the Board. And, I thanks employers for agreeing to the introduction of the Unemployment Scheme.
What is an unemployment benefit?
A benefit for primarily employed persons who made National Insurance contributions while they were employed. It is not a programme for workers who made no contributions to the national Insurance Programme. It is not an assistance programme. It is a benefit programme.
The Unemployment Benefit provides temporary financial assistance to eligible workers who become unemployed, are unable to find suitable employment and who are capable, available and willing to work. And while unemployment schemes are designed primarily to benefit individuals who lose their jobs and lose regular income, they also help boost the overall economy in times of recession.
Unemployment payments by NIB to persons who most probably lack the financial ability to do so will most likely result in the prompt purchase of consumer goods or in discharging other essential obligations such as rents, electricity or mortgage payments. Left in the hands of NIB such sums will most probably sit in a bank account or be used for the purchase of Government Bonds.
Consumer demand helps to sustain employment, hence the Unemployment Benefit Programme will assist in sustaining jobs as payments made to the unemployed will increase purchasing and help to minimize fluctuations in National Income and employment.
The unemployment benefit is being implemented in two phases, given the economic realities and the needs of unemployed workers.
During the first phase benefits will be financed from the $20 million transferred out of the Medical Benefit Branch. So initially, there will be no new contribution by either employers or workers and the contribution qualifying conditions are quite generous for phase one, to allow persons who may have been unemployed for up to 4 years to qualify.
First let me discuss the highlight the interim phase:
If I am unemployed, how do I know whether I am entitled to receive Unemployment Insurance benefits under the Scheme commencing April, 2009?
Firstly, you must be a person who was previously employed and registered with NIB by your employer. Your last date of employment must be on or after July 1st, 2004. And, you must not yet have attained the age of 65.
You then have to meet two National Insurance contribution conditions:
The first one requires that you have paid contributions for at least 40 weeks or 9 months. These contributions could have been made just before unemployment began or many years before.
Then, you must also have made a certain number of contributions in the period leading up to your unemployment. There are three conditions of which you only have to meet one:
Made at least 13 weeks (3 months 1 week) contributions in the six months prior to becoming unemployed, or
Made 26 weekly payments in last 52 weeks, or
Made 26 payments in the last contribution year (July to June) before you became unemployed
I will give 2 examples:
The first example is for someone who becomes unemployed on the first day of the scheme – April 20, 2009.
The first condition requires at least 40 weekly contributions. Then, he or she must have made:
13 contributions from October 2008 to April 2009, or
26 payments from April 2008 to April 2009, or
26 payments from July 2007 to June 2008
In the case of an unemployed person who has not worked since September 2004 (which would cover persons like the Royal Oasis in Grand Bahama), the following conditions would apply:
must have paid 9 months contributions,
AND
paid 13 contributions between March and September, 2004, or
26 payments between September 2003 and September 2004, or
26 payments between July 2003 and June 2004 all before being laid off.
The second example would include persons working at the Royal Oasis in Freeport who were laid off after the hurricane in 2004, and persons in Grand Cay, Abaco who were laid off after the hurricane and the eventual closure of the Walkers Cay Hotel and Marina.
The fundamental requirement is that a claimant must still be unemployed at the time a claim for unemployment is made. This benefit is not designed to compensate for previous periods of unemployment. In short, if you are working now it would not be possible to claim for a past period when you were unemployed.
How much am I eligible to draw?
The unemployment benefit payment will be one half, or 50%, of your average insurable wage.
So the wages on which your contributions were made prior to your becoming unemployed will determine the sum you receive.
With the current ceiling on insurable wages of $400 per week, the maximum amount that anyone can receive is therefore $200 per week – 50% of $400.
If you are paying on a wage of $300 per week you would receive $150 per week. If you contribute on a wage of $200 per week, you would be eligible to receive $100.
By the way, although the benefit is stated as a weekly amount, payments will be made every 2 weeks.
When do I start collecting unemployment cheques?
The unemployment benefit scheme will become effective on 20th April.
Since cheques will be paid every 2 weeks, the first set of cheques will be issued during the week of 4th May. These cheques will be for the period April 20 to May 2nd. Cheques will represent payment for the previous 2 weeks.
Entitled persons will be advised by National Insurance where and when to collect unemployment benefit cheques.
How do I apply?
NIB will soon begin making announcements regarding the places and times at which entitled persons may register. Special Centres will be designated immediately before Easter to provide for an easy transition to this new benefit.
National Insurance and the Labour Department will together also designate special centres throughout The Bahamas, including the National Insurance Offices, to register for Unemployment Benefits on and after April 20.
To ensure that every eligible unemployed person receives their benefit after April 20, each National Insurance Local Office in New Providence, Grand Bahama and in the Family Islands (and in some cases Government Administrative and or Local Government offices) will be able to receive claims during the Interim Phase of the this Unemployment Benefit programme, and certainly when we introduce the Permanent Phase.
So, National Insurance and the Department of Labour, working together at designated schools, will begin to accept Unemployment Claims on Saturday, April 11th, and also, for the following week commencing Tuesday, immediately after Easter Monday, at these schools.
After this one week period, on Monday, April 20, which is officially Unemployment Registration Day, National Insurance Offices will accept applications; the Department of Labour representatives will also be at the Jumbey Village and the Freeport National Insurances Offices to ensure that the unemployed have a one-stop process in filing their unemployment claims.. All workers who have made NIB contributions and who are willing, able and capable of employment but who have not been able to find employment are urged to register.
What information do I need when I apply?
Claiming the new unemployment benefit will require you to register with the Department of Labour's Employment Exchange where you will be issued an Unemployment Card. Representatives at the Department will be in the same location as NIB at the Special Registration Centres during Registration times in New Providence and Grand Bahama. On other islands alternative arrangement, as appropriate, will be made,
A claimant must then complete the National Insurance claim form and produce the Unemployment Card when first claiming. At both the Labour exchange and NIB claimants will need to present their NIB Card and a picture ID – drivers' license or passport.
The Claim Form will ask for the following information:
* Personal information – name, address, and telephone number, so they can be contacted if there are any issues with a claim.
* The last date of employment.
* The reason for dismissal. If available, it would help if a copy of the dismissal letter is provided.
*
Name and addresses of the places or individuals for whom a claimant worked during the last 18-24 months.
*
If a claimant is receiving any other benefit payment from NIB, e.g. maternity benefit, sickness benefit or invalidity. Only receipt of Survivors Benefit or Disablement benefit may be paid at the same time as unemployment benefits. In short, a person can't collect sick benefits or maternity benefits and unemployment at the same time. One dip – not two or more – except for survivors or disablement
What do I have to do to maintain my eligibility?
This new benefit is for persons who are unemployed. This means that they are currently not working and they want to work but cannot find suitable work. Therefore, to continue receiving cheques every 2 weeks one must:
*
continue to look for a job while receiving unemployment benefit. They will be required to report to the Department of Labour at least once every 4 weeks to check on the availability of jobs. This will confirm that the person is still seeking employment.
*
A claimant must not refuse suitable employment offered or refuse to apply for a suitable vacancy brought to his/her attention.
*
If the Director of Labour advises a claimant of a job availability he/her must not refuse to be interviewed for that job.
*
A claimant must not refuse to undertake a training programme offered by the Department of Labour which could qualify him/her for a job
Each time a claimant goes to collect a benefit cheque he/she will be asked to confirm that during the past 2 weeks he/she was unemployed, looked for work, and did not refuse suitable employment etc. Claimants will be required to confirm this by signing their name. It is important that claimants be honest as NIB will be making checks to ensure that the statements made are true. There are severe consequences for making fraudulent claims.
I am currently collecting severance pay. Can I collect Unemployment Insurance at the same time?
No, you cannot receive both severance pay and unemployment benefits at the same time. Unemployment Benefits are only paid after the severance pay period ends.
So NIB will determine from the claim form and from information provided by your last employer as to when any pay in lieu of notice and any severance pay expires. The unemployment benefit will then be awarded if you are still unemployed 2 weeks after severance pay has expired.
Will I be able to collect Unemployment benefits if I quit my job?
Yes, you may but not right away. If you quit your job, the benefit may be denied for up to 6 of the 13 weeks.
Will I be able to collect Unemployment benefits if I am fired?
Yes, unless you are fired for theft, dishonesty or fraudulent offenses. In those cases you may be denied eligibility for one half of the benefit period.
How do I appeal my claim if I am disqualified from receiving Unemployment benefits?
Claimants may appeal any NI benefit that is disallowed or for which they feel the amount paid is not correct. Cases are heard before the NIB Appeal Tribunal.
What happens when my Unemployment benefits run out?
The total period of benefit payment is 13 weeks (3 months and one week). This is the usual period of payment for this benefit internationally.
It should be noted that when the 13 week period is exhausted the law makes provision for the Minister to extend the benefit for up to an additional 13 weeks. This could result in a maximum of 26 weeks – 6 months. Extensions would have to be for the entire programme, not a single individual. So if circumstances in the economy dictates an extension, an extension may be granted.
After 6 months Social Services would then be the only assistance available.
What if I need more training to get a new job?
Where training is available from the Department of Labour, or through some other Government funded source, you would be expected/required to avail yourself of the training. You can request information on training available from the Department of labour.
Can I get help in conducting my search for a job?
Yes. This is actually one of the reasons we want you to register with the Department of Labour. The Exchange provides a matching service where employers indicate any vacancies they are trying to fill. So not only is the Exchange going to help verify continued unemployment, they are primarily there to help you find a new job.
Mr. Speaker, I will now touch briefly on the second or permanent phase of the programme. While no date has yet been established for the start of this phase, the amendments before us today provide for the Minister to set that date. And as I indicated last week when we debated the amendment to the National Insurance Act, ample notice will be provided to employers and workers.
There are two key differences between the provisions of the interim and permanent phases. The first is that contributions of 1/2% of insurable wages will be payable by both employers and workers and secondly, the NIB contribution requirements will be different. Other than that, the insured person must be unemployed, able to and willing to work, have not refused suitable employment and attended an interview or training if directed to do so by the Director of Labour in order to qualify.
The increases to NIB contributions will be quite small:- for every $100 of insurable wage, 50 cents will be payable by the employee and 50 cents by the employer. So for workers who earn $400 or more per week and pay the maximum contributions, the additional contribution to NIB will be $2 by the employer and $2 by the employee each week.
Phase II of the Programme will require contributions from wages by both Employer and Employees. The contribution rate will be 1% of insurable wage.
Two important points regarding contributions:
1.
All employed persons and their employers, including civil servants and The Bahamas Government, will contribute.
2.
The 1% contribution is expected to cover fully the cost of unemployment benefits payable for persons who qualify under the second phase.
There are differences as to the number of National Insurance contributions that will be required when the contributory phase starts. The requirements will be more stringent.
To qualify a claimant must have (i) contributed for at least 52 weeks (1 year), and (ii) paid or being credited with thirteen (13) contributions in the twenty-six (26) weeks immediately before unemployment commenced, and (iii) paid seven contributions in the thirteen (13) weeks immediately before unemployment commenced.
That means that only persons who have been employed for at least half of the previous 9 months and a half of the previous 3 months will qualify to receive the benefit.
There are also provisions which will prevent people from qualifying frequently and abusing the scheme. So once a claimant exhausts his 13 weeks of benefits (unless the payment period is extended), he will have to wait another 52 weeks. And he will have to have paid contributions for at least 20 weeks in the previous 9 months; half of which must be in the previous 3 months in order to qualify.
In summary, this new Unemployment Benefit will lead to the National Insurance Board providing income replacement coverage for all of the contingencies that are likely to affect a worker's wages – sickness, maternity, invalidity, death, old-age, and now unemployment.
This benefit is being introduced at a time when thousands of Bahamians have not worked for several months, some for years. And although the payment period is only temporary, lasting up to a maximum of 26 weeks, it will relieve financial hardship among individuals as well as boost consumer demand for goods in services across The Bahamas.