BREAKING UPDATE FROM LONG ISLAND >>> Former Prison Inmate recently released after 19-years in Fox Hill is now suspected of murdering British Columbia National in Clarence Town!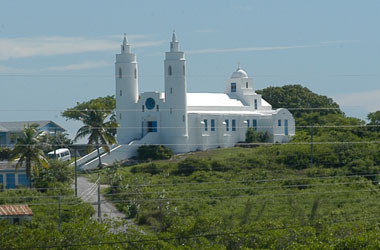 Long Island records its second murder in four months and some believe an ex-con may be behind the latest incident! Islanders afraid now to walk the streets!
Long Island, Bahamas — On Thursday police revealed how a Caucasian man [sometime shortly just before noon] was found dead; stabbed multiple times about his body at his residence in Clarence Town, Long Island.
Since that report the WUTLESS MEDIA has been able to inform the public as to what happened, some doing the one drop on Arawak Cay. BP's team flew to the island late Friday and from our reports now coming in we are the first to tell yinner what went down.
We can report a Canadian national is the victim in that murder, and already detectives have put questions to a released prisoner for the incident.
This you should know is the second murder in just under four months on the island.
BP sources can reveal the man tracked down and held right now in custody suspected of the crime is 43-year-old, Moses Morris.
Now for many of you who don't remember, Morris recently served time in Fox Hill and was jailed for the past 19 years. He was sentenced to 25 years on November 4th, 1996 upon his conviction of manslaughter and causing dangerous harm. But get this;
Back on a hot Saturday afternoon (in April 2, 2011) was allowed to leave the prison to mingle with the public, which is the usual practice for inmates permitted to participate in the Extra Mural Work Scheme Programme, but on that day Morris failed to return back to the prison.
Someone had decided to place him on the work scheme in January 2011, and he had a release date for July 5th, 2013 during that incident.
And after being released recently, Morris returned to Long Island and rented a vehicle there, which was not returned at the time due. The rental was recovered days later in Scrub Hill hid deep in a ditch with bushes covering the car from public view.
And get this; while that vehicle was found before the murder of the Canadian took place, police now believe Morris allegedly used the victim's vehicle to get away from the crime scene on Thursday morning. that victim's vehicle was later found behind an old school in Salt Pond. WHAT IN DA HELL IS DIS? BP is following this developing story.
Readers remember how Daphanie Knowles, 47, was charged in connection with the murder of Long Island web shop employee Andrea Carroll back in January. Carroll became the first victim to be murdered on the island for the year.
We report yinner decide!