Company Title Sponsors the Event for Four Consecutive Years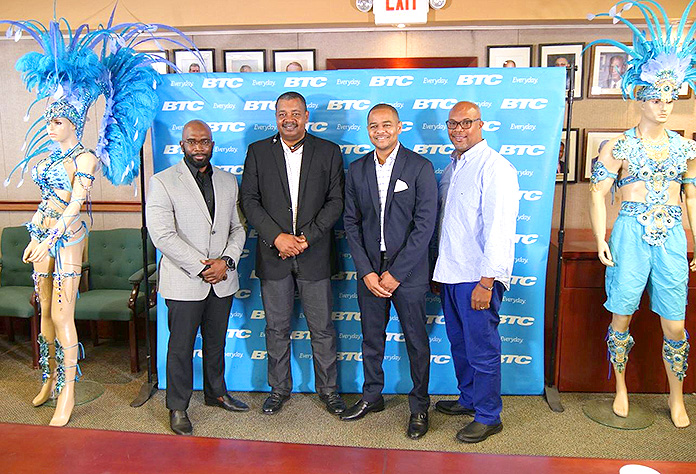 Nassau, The Bahamas. April 18, 2018. For the fourth consecutive year, BTC will support Bahamas Carnival. This year's event promises to be a three-day explosion of local and international talent. BTC will also support five groups participating in the Road Fever event.
Vice President with responsibility for Marketing, Marcian Cash said, "We are proud to support this event for the fourth time. This year BTC is bringing the hype to the Bahamas Carnival Experience. Starting tomorrow, customers can text to win free tickets, BTC Combo Plans, a variety of BTC mobile phones and lunch for two with DJ Khaled."
The "Ready for the Road" text to win competition kicks off in a week, and customers can text the short code, 5116 to enter to win a number of prizes, courtesy of BTC. The first 4,000 customers to purchase tickets for Saturday night's event will receive a free $5 top up from BTC.
"We are excited about the line-up at this year's event, both from the local and international sides. BTC's own brand ambassadors and national superstars Wendi & Dyson Knight will perform. We are also happy to see regional acts like Destra and Machel return to The Bahamas. Overall, we expect a great event and we, like I'm sure the entire country is, are looking forward to it," Cash continued.
Kenny Mackey, from the organizing committee Polantra Media said, "We are thrilled to have BTC as the title sponsor as they consistently demonstrate their commitment to the Bahamian people.
We would also like to thank Kalik as they too have been a key partner. It is our goal to organize a world class event. This year Dmac, Dyson Knight, Wendi, Rick Carey and Sketch will be joined by Machel Montano, Destra Garcia, Mr. Vegas, Ricardo Dru, Blaxx, Skinny Fabulous and so much more. Also, recently added was DJ Khaled, who provides international appeal and will guarantee international exposure. We wanted someone who would keep the people engaged before the events, with interactive social posts and a broad appeal as well as during the show can bring the 'vibez' and Khaled delivers on all of the above."
The events kick off on May 4 and run until May 6.