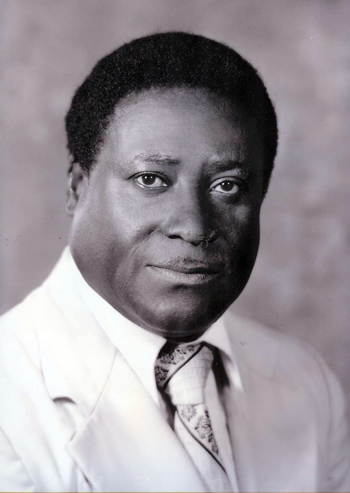 NASSAU, The Bahamas – The Cabinet Office has announced that a State Recognised Funeral will be held for Frank Leopold Edgecombe, JP, on Monday, November 25, 2013 at 10 a.m. at the Church of God Auditorium, Joe Farrington Road.
His body will be interred at the Mt. Carey Union Baptist Church Cemetery on Fox Hill Road, following a procession led by the Royal Bahamas Police Force Band from his homestead on Frank Edgecombe Street.
The body of Mr. Edgecombe, a former Vice President of the Senate and Member of the House of Assembly, will Lie in State in the House of Assembly from Friday, November 22 to Monday, November 25, just prior to the funeral service.
His family will view the body at 9 a.m. on Friday, then at 9:15 viewing by the Governor General, the Prime Minister, Cabinet Ministers, Senators, Members of the House of Assembly, Senior Government Officials, Members of the Diplomatic Corps and other officials.Public viewing will take place Friday from 12 noon to 5 p.m., on Saturday from 9 a.m. to 5 p.m. and on Sunday from 9 a.m. to 5 p.m. The service of "Praise and Thanksgiving for the Life and Ministry of Dr. Frank Leopold Edgecombe" will be officiated by Reverend Warren Anderson, assisted by Reverend Patrick Rahming and Reverend Phillip Armbrister.
Prime Minister Perry Christie is expected to lead the tributes paid to the former Progressive Liberal Party Stalwart Councillor and teacher.Mr. Edgecombe died on Tuesday, November 12, 2013. He was 85. He is survived by his wife, Clementina; daughter, Norma; sons Julian, Godfrey, Clement, Douglas, Alvin, Patrick and Wendell.Frank Leopold Edgecombe, the second son of Daisy and Courtney Edgecombe was born March 3, 1928 in Fox Hill. He grew up on the Eastern Road but spent most of his life on Springfield Road, which was recently renamed Frank Edgecombe Street in his honour.
Mr. Edgecombe was among the first group of 30 teachers who were pioneers of the Bahamas Teachers' College. He taught for 26 years, during which time he became a founding member of the Primary Principal's Association. He was honoured in 1990 for long and dedicated service to education in the country.
Mr. Edgecombe started his teaching career as a monitor at Sandilands All Age School, then at Eastern Junior, Southern Senior, A. F. Adderley and Western Senior as an assistant teacher. He was also principal at Nicholls's Town School and Sandilands All Age School. He was the first principal of the Evening Institute of Sandilands School.
Mr Edgecombe worked at Her Majesty's Prison as assistant storekeeper for one year. He was also a building contractor.  He represented the Fox Hill constituency in the House of Assembly for the Progressive Liberal Party (PLP) for 10 years, 1977 to 1987 and was vice president of the Senate for five years. He was chairman of the Road Traffic Authority for 14 years.
Mr. Edgecombe was a committed member of the PLP and was made a stalwart counsellor by the party.
In 1979, as a Member of Parliament, he attended the 25thSession of the Commonwealth Parliamentary Association in Wellington, New Zealand. In 1986, he led The Bahamas Delegation to the 32ndParliamentary Association to London; and to the Small Countries Conference in Jersey.
Mr. Edgecombe grew up in Mt. Carey Union Baptist Church where he held office in the Baptist Training Union, served as superintendent of the Sunday School for 27 years and as financial secretary for 35 years.
In recognition of his religious and community involvement, the Richmond Virginia Seminary conferred on him the honorary degree of Doctor of Literature in 1998.