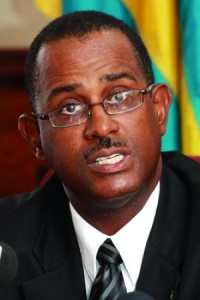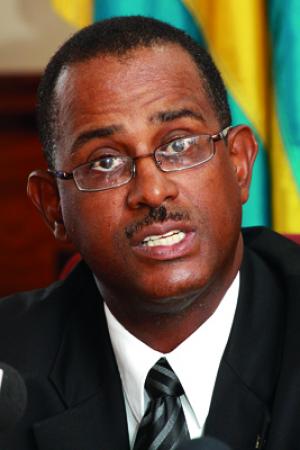 By Straight Talk Bahamas
http://www.straighttalkbahamas.com
The Minister of National Security has said previously that most crime is just criminals killing criminals. But he has taken it further, in a recent interview he said that he is not focus on criminals killing criminals, no, he is focused on innocent deaths from robberies and such.
"Out of the 93 homicides (for the year), 49 are directly related to bad boys, so that is 50 per cent. Retaliation, drug related, conflict, 50 per cent," said Mr Turnquest.

He said it would "astound" the public to review the files of these murder victims and their suspected murderers, because "essentially criminals are killing criminals."

"Then you have 5 per cent that are domestic. You can't do anything about that. That is counselling. If someone does not love you, move on. If they have someone else, move on," said Mr Turnquest.

"The real, real concern that as minister I focus on and get the police to really look at is those we categorise as robberies. There are 14 per cent of those. That is your random homicides that ought to be avoided. Someone goes into a shop, a robbery goes bad, an innocent person gets killed. I am very, very concerned about that," he said.

While Mr Turnquest said he is concerned about all murders, he said his focus is applied to random killings, not domestic violence nor retaliation or drug related conflicts.
While it may be true that criminals are killing criminals, that is not ok. And for the Minister of National Security to basically say that it is, is tantamount to approval of this behavior.
He basically says to criminals Go ahead, kill each other, we aint checking for yall. Do you know how wreckless that is comming from the Minister of National Security?
While I don't regret seeing hardcore criminals die, there are two major problems with the Minister's Criminals Killing Criminals theory
Lawlessness
We cannot allow criminals to kill criminals and say its ok because it breeds lawlessness. And lawlessness breeds fear which emboldens criminals to commit more acts of violence. Soon the entire country would be over whelm with crime. Oh wait, that's already the case as crime is up 58% nationwide and 69% in Nassau!
It is Wrong!
The belief that  only criminals are killing criminals is a fallacy. All you have to do is read the headlines to realize this is so;
Neil Percentie Gunned Down –  Victim of criminals warring in the Foxhill area,  apparently he circled the area one time too many
Mother and One year old child Shot – The girlfriend and child of accused murderer, they were innocent.
14 year old Jeffonya Rolle Murdered – She was killed when gun men came looking for her brother, she was innocent. He was killed several weeks later.
Triple Murder in Carmichael Road – A pregnant lady, her sister and her sister's boyfriend were all executed. She was the girlfriend of accused double murderer on remand at the Fox Hill Prison.
I guess The Minister would call these people collateral damage.
I believe it is basically an admission of failure. In essence he is saying we can not prevent the from doing this so we will not even try, we will focus our attention elsewhere. In the mean time innocent people are being terrorized and living in fear, while criminals act with impunity because Tommy Turnquest doesn't know what to do.
I call for the resignation of Tommy Turnquest as The Minister of National Security Immediately on the grounds of Incompetence!