FNM STATEMENT!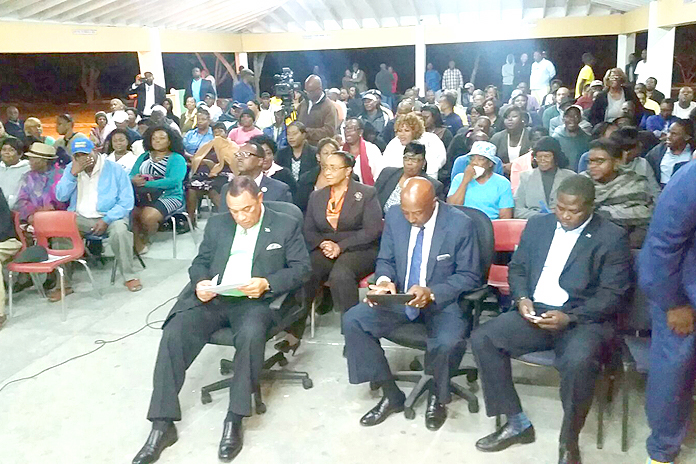 Prime Minister Christie put on yet another worn out and weak performance. This time, in the Bamboo Town Constituency on Tuesday night. After months of empty optimism about progress at Baha Mar, where his missteps contributed to at least 2000 Bahamians losing work, and contractors in dire need of millions of dollars owed to them for work done at the Cable Beach resort, the 'King of Promise' was found singing a desperate tone to Bamboo Town constituents and the wider Bahamas. Christie has fallen from things will happen "soon", good news "before Christmas", weekly "promising" talks with the Chinese banks, to now, I have written a letter to the Bank of China and told them "I am running out of time." This Christie led government continues to fail the Bahamian people and the time has come for real CHANGE in a NEW BAHAMAS.
Bamboo Town residents and Bahamians were left even more confused about Christie's chaotic approach to implement National Health Insurance. Against sound advice, Christie, for nothing more than political expedience, says he is moving ahead. In his usual talk before he thinks form, the prime minister offered no specifics about the NHI scheme. He stubbornly refuses to listen to key stakeholders and to re-examine the process.
Rather than give residents of Grand Bahama a direct and comprehensive report on his government's position related to the extension of Hawksbill Creek Agreement items, Christie used the Bamboo Town forum to seemingly chastise the children of the late Edward St. George, former Chairman of the Grand Bahama Port Authority. While the people of Grand Bahama hurt and GBPA licensees and potential investors remain uncertain about Freeport's future, we have an indecisive national leader and government, playing the stall game with the leadership of the GBPA and holding Grand Bahama's already challenged economy hostage. We remind the fine people of Bamboo Town and throughout the country, that the candidate Prime Minister Christie took to that Bamboo Town Branch back in 2012 and touted as one of his new generation of leaders, no longer supports him. Fed up with Christie's weak and ineffective leadership, Renward Wells, the Member of Parliament for Bamboo Town, is now a member of the Free National Movement. Wells wants only what is best for the residents of Bamboo Town and the people of The Bahamas. Tuesday night's meeting, highlights what Prime Minister Christie has really become; a tired and failed leader, out of touch and out of time.
It seems that the more the prime minister spoke on Tuesday night, it got worse. With crime spiralling out of control and Bahamians living in fear, a weak and worn Christie could only again promise the launch of a no nonsense approach on crime. This is a leader in dreamland, sadly detached from the harsh realities. The people of The Bahamas can rest assured that under a newly elected FNM government, there will be no repeat of the Baha Mar saga.
Affordable health care will prove sustainable with the respect and input of key stakeholders. The GBPA, its licensees and potential investors will know where a newly elected FNM government stands at all times and our bold and strategic approach to combat crime will be action oriented. For a BETTER BAHAMAS, CHRISTIE HAS TO GO!
-END-