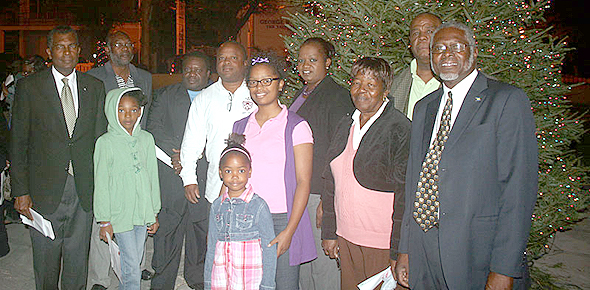 Led by the Member of Parliament for Fox Hill Fred Mitchell, the annual Christmas Tree lighting took place on the Fox Hill parade on Saturday 4th December.  The tree is named each year after a resident of Fox Hill.
This year it was named in honour of a past Chairman of the Fox Hill Festival William Rahming.  Mr. Rahming passed away in 2009.  The tree was donated by Ken Perigord and mounted and decorated by Derek Davis of Davis trucking and his wife Janet Davis.
The event was organized by the Fox Hill Festival Committee.  The photo taken by Al Dillette shows the MP Fred Mitchell with the family of the late Mr. Rahming his brother Fabian and the civic leaders of Fox Hill Rev. J. Carl Rahming of St. Paul's Baptist Church , Rev. Patrick Rahming of Mt. Carey Baptist Church and Maurice Tynes, Chair of the Fox Hill Festival Committee.