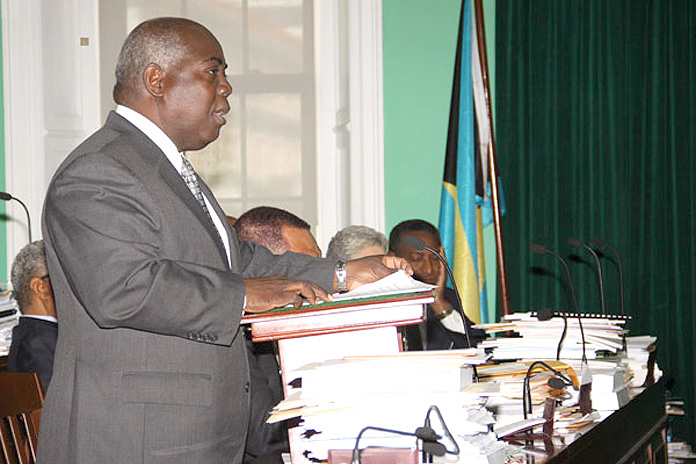 NASSAU, The Bahamas – The Government of The Bahamas has approved a Management Services Agreement (MSA) between Bahamas Power and Light Company (BPL) and PowerSecure Inc. granting PowerSecure authority to assume management control of BPL in the coming weeks. Deputy Prime Minister and Minister of Works and Urban Development the Hon. Philip Davis made the announcement in the House of Assembly, Wednesday, February 3, 2016.
According to the terms, the agreement gives PowerSecure full management and operational control of BPL and responsibility for all electricity generation, transmission, and distribution, procurement, and customer service. The MSA has an initial term of 5 years, with the option to be extended for an additional 5 years upon mutual agreement of BPL and PowerSecure. On an ongoing basis, PowerSecure will be required to prepare a comprehensive Business Plan and financial model each year for approval by the board.
An executive management team comprising PowerSecure and Bahamian employees will manage BPL. Two members will be appointed by PowerSecure to serve on the BPL board along with six board members appointed by the Government.
For its services, PowerSecure will be entitled to a base management fee of $2 million per year, adjusted for inflation annually. Additionally, PowerSecure has the opportunity to earn a performance compensation bonus of up to 150% of the base fee.
As The Bahamas continues its energy sector transformation, the Deputy Prime Minister said this agreement is another step in creating a 'new, vibrant, efficient, and lower cost utility provider.'
"Sixty percent of our electricity bills were due to the cost of fuel. Notwithstanding the temporary relief to our pockets now, it remains urgent to continue pushing these reforms forward," he said, as the cost and reliability of supply of energy have proven to be a deterrent to investors, who have felt the cost of coming to The Bahamas was prohibitive.
"Indeed, for many years now, Bahamians and investors alike have complained that energy costs are exorbitant. Apart from the cost of energy, the security and reliability of energy supply are also highly frustrating concerns. The single most important factor to driving down costs, that encourages investment, entrepreneurship, ownership, and security relates to electricity.
"For these reasons and more, the Government embarked on an ambitious energy reform process in August 2013, the objectives of which were to realize significant and sustainable reductions in the cost of energy, a financially healthy electrical utility company, increased energy security, improved reliability of energy, better customer service, more responsible environmental attention, and, ultimately, increase our competitiveness and marketability as a country. It is a process of true reform."
He told Parliamentarians that the Bahamas Electricity Corporation (BEC) is a completely "unsustainable" operation and is unable to continue to operate under its present structure.
"We have all been witness to the resulting hardship that the dire state of BEC's existing generation assets have caused residents and businesses – as well as the environment through high CO2 emissions and other hazards. Its disparate system design requires major capital investment of at least $450 million over the next 5 years to resolve the many issues faced.
"We also know that BEC continues to incur $20-30 million in losses every year due to an archaic rate structure – a financial and operational situation that is impossible to sustain. In fact, the situation is such that BEC is now unable to obtain a credit rating, and therefore has no leverage with lenders or suppliers."
In addition to reducing the strain on foreign reserves, the Deputy Prime Minister said the proposed restructuring of BEC, commencement of operations of BPL and handling of legacy liabilities now present the opportunity to remove the current $240 million guarantee as part of the reform process.
The Deputy Prime Minister said the business plan will create efficiencies which will further allow for "significant" and "sustainable" reductions in the cost of energy, increased energy security and reliability, environmental responsibility and increased competitiveness as a country.
"Importantly, economic dispatch measures will dramatically improve fuel mix and engine efficiency, reducing dependence on more expensive fuels. Solar energy systems will also be introduced, primarily in the Family Islands, providing renewable sources of power during peak load periods, while reducing fuel usage and transportation costs," he said.
Improved customer experience with expanded communication and payment options and introduction of prepaid services also constitute the plan. The Deputy Prime Minister said moreover, it would improve the experience of BPL employees through "improved" job training and safety programs, a "stronger" and "more stable" organization, and other measures aimed at making BPL an employer of choice for Bahamian workers.
"The only way to bring down your electricity bills is to make the operations more efficient. The major efficiency gains lie in the upgrade and more efficient management of generation, transmission and distribution equipment, and in particular using less fuel to generate the power that the country needs, as well as generation plant that is able to use cheaper more efficient fuels such as natural gas," he stated.
Staff reductions are not expected in the near future and any reductions would be done over time in a manner that is fully "open" with key stakeholders and employees themselves.