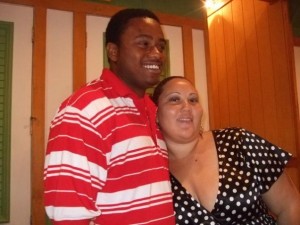 Nassau, Bahamas — Just as BP told 'ya', a day and a half later the people of the country witnessed the arraignment of 23-year-old, Douglas Brian Pratt. Pratt is the man who slaughtered, Shande Cartwright, on a desolate beach in Adelaide.
The 22-year-old ex-girlfriend and mother of Pratt's children was left to die in the community after being fatally stabbed to death.
Pratt drove himself to the hospital on Monday evening leaving his children's mother beaten and stabbed to death in the quiet community. He concocted a story telling police initially both he and his ex-girlfriend were attacked by two groups of men as they sat in a vehicle in the area. However, being the well-trained lawman he is, when Ellison Greenslade heard the case he went back into the area to take a second look at the crime scene. It was after that review, we understand, the police chief ordered officers to take a second look at the case, which subsequently led to the confession by Pratt.
Pratt, who resides on Jellyfish Lane, Yamacraw Estates, had requested a meeting with the deceased woman sometime around 9PM on the evening of the murder. He drove the young RBC employee out of the city where it is alleged he attacked her and left her to die.
Magistrate Gomez granted the accused medical attention during his arraignment yesterday and further ordered him remanded to Fox Hill Prison. He was not allowed to enter a plea.
Family on Long Island told BP, Pratt was very abusive to Shande during their years together, which led to their separation, despite just recently having a child together.
"We warned Shande over and repeated that Pratt was no good for her and that one day it will come to this. From what we know he often abused her, beating her blue during their rocky relationship. It didn't have to come to this," a close family member said.
Shande leaves behind two young children.