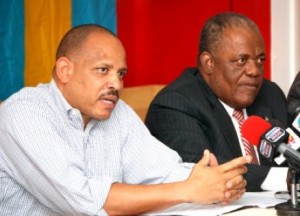 FNM Senator leaked the Election Date
Nassau, Bahamas –– Duane Sands is the BIG LEAKER #2 in the FNM.
Sands on facebook announced the date of the General Elections before the Prime Minister Hubert Ingraham.
Even Duane Sands believe PAPA was taking too long to RING DA BELL!
On facebook Sands said the next general election will be May 7th.
Boy, the FNM OUT OF CONTROL AND IS IN TERRIBLE DISORDER! But there you have it!
Minister of National Security Tommy Turnquest told the press when he discovered Sands hand posted the date before the Prime Minister, he immediately called him up to tell him he was wrong for what he did and that he should wait for the PM to make the announcement.
Boy, IF YA DON'T LAUGH YOU WILL CRY!!!

But Sands being arrogant as he is, said, "I heard it on Love97FM." Well the PM preempted the GG and Sands preempted him. So there ya have it.
We told ya DUANE SANDS is a BAD Candidate with foot in A** disease. Now Papa believe us.
Some people just does talk too damn much!
We report YINNER DECIDE!