BREAKING NEWS FNM TO LOSE ANOTHER SEAT IN PARLIAMENT!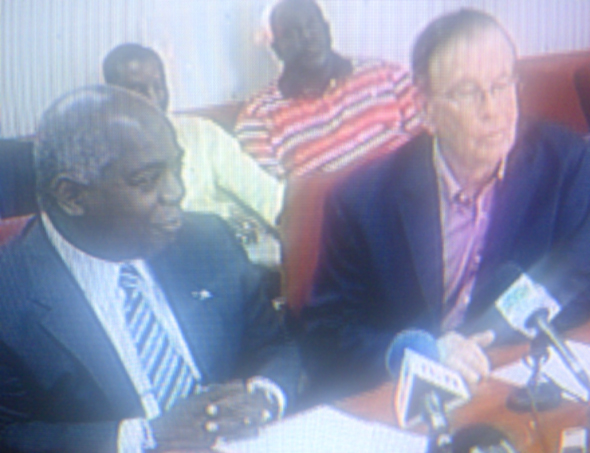 Nassau, Bahamas — PLP viceroy Philip Brave Davis is set to bail out the Party once again and deliver it one more of its old wartime generals.
Word is FNM MP for South Abaco, Edison Key, is set to leave the opposition party and head back home to the PLP.
Today, the PLP deputy leader and the South Abaco MP sat down to sign a deal to improve the roads in Abaco.
Key began singing the praises of the PLP at the signing ceremony and praised Prime Minister Perry Christie and his government for the good leadership he and the PLP are bringing for all Abacoanians.
Davis, the viceroy of the PLP, and Christie's "Quiet Storm" is known for such political maneuvers like gathering support and snatching supporters of political groups.
It was just before the May 7th General Elections when Davis quietly took a key general of the FNM who, during the 2007 General Elections, Hubert Ingraham hired to take out the entire PLP leadership in Southern New Providence.
Davis, many would remember, mapped the PLP's ground game in the ELIZABETH Bye-election and won for the first time in years a bye-election for the opposition party.
In October, Davis, Gibson and Roberts went to work in North Abaco and disconnected Ingraham's 35-year hold on that constituency calling it a New Day Victory. Davis opened a number of branches in North Abaco and rented a complex right in front of Hubert Ingraham's private residence to monitor the traffic in and out of the former Prime Minister's home during the race. In the end PLP candidate for North Abaco Renardo Curry turned votes in the election around by 1,300 more supporters casting for the PLP over the FNM.
And now Perry Christie's viceroy and "Quiet Storm" is set to deliver another MP in the Parliament. It looks like the PLP will soon have 31 seats and the FNM 7 …..