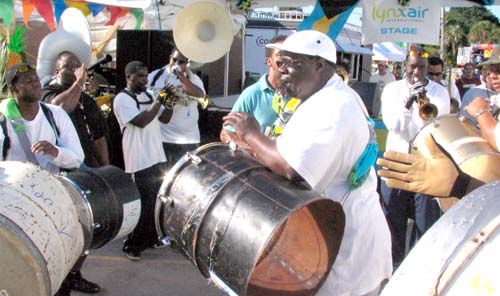 Nassau, Bahamas — Sources telling Bahamas Press that a major investigation could take place following what appears to be another major scandal in Junkanoo.
BP is reporting that an official in the Ministry sold an entire section of the Parade to VIPs and kept the money. The scandal we are told has angered members of the JCNP, who were not aware of the section being sold and gave no authorization to allow the heist.
Bahamas Press has learnt the developments have hit the high office of Prime Minister and from what we hear, Mr. Christie, who is carrying a serious and deadly firing blade these days, has called officials in the Ministry to account.
BP understands the section of tickets in question amounts to thousands of dollars in much needed revenue by the JCNP, which is in the red.
Junkanoo ticket sales have always been a mystery, with many of the shysters and bandits being assigned to the Ministry of Youths Sports and Culture.
Every year thousands of dollars vanish in the production of the event with some benefiting handsomely. But this time JCNP officials believe the rat trap has fallen on the right head and they want to know exactly how much money did the high flying VIPs pay for tickets and why the funds were not turned into the JCNP!
Where did the money go?
Who stole the money?
And when will the ax be lifted on the tree before names begin to be called on BP?
We report yinner decide!