BP gets deeper into that Palmetto Point murder investigation – What da hell is dis?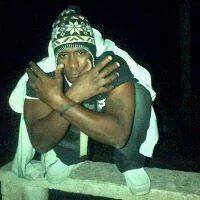 Governor's Harbor, Eleuthera… Bahamas Press agents on the island of Eleuthera have yet another twist in the latest murder tragedy of Hayward 'Woodi' Thompson.
Our agents have confirmed that Rex Rahming, who is shown here posing as if he's trying to audition for the next Batman movie, is indeed in police custody.
We are still awaiting the official word to say if and what he is charged for.
If you remember 'Woodi's body was found in an apartment under construction with multiple stab wounds. Our own forensic unit has obtained photos of the scene, but out of respect to the family and public in general we will not be posting such horrific graphic images to our site. But here's da real scoop.
Our agents who have been staking out the clinic just in case there was anything to report have spot Rahming, the 22 year-old who evaded cops for questioning, checking in. We have since learnt that Rahming had to see the local doctor for a oozing wound to his head.
After one of our best interrogators got to our source under the bright light, we learned that Rahming was complaining of a wound to the back of his head, BELIEVED TO HAVE BEEN CAUSED BY THE DECEASED! Could it be that Thompson and Rahming may have had been in a bust up among themselves before the murder took place?
We at Bahamas Press are not pointing any fingers but we were told that the suspect, ALLEGEDLY, said that 'Woodi' pock him in the back of his head.
Rahming, who tried to beat Beyonce and Jay-Z with his own on da run tour, was hiding about the old packinghouse in Hatchet Bay when police found him. Our agents who spoke to family members added, he told them he would rather killed himself before he hit jail again; and that when he vanished. A suitcase and some of his personal items also went missing with him.
Rahming tried to run from the police and as a result, he was shot in his foot.
BP LIVE IN ELEUTHERA TONIGHT!
We report yinner decide!
Happy Independence Bahamas!