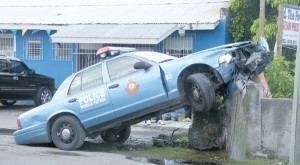 Bahamas Press can confirm police are now looking for an ex-police officer, Walden Mitchell, who was fired from the Force.
We can tell you his crime spree began last night when he gun butted a female. Officers spotted Mitchell early this morning at which time he opened fire shooting an officer in the jaw and damaged a police vehicle; which came under a hail of gunfire.
Meanwhile shortly after 7am ex-officer Mitchell was again spotted near the Commonwealth Bank in the Golden Gates Shopping Centre on Blue Hill Road South. There he shot a man and stole his tail motorbike.
We warn residents that Mitchell is armed and dangerous. Please do not approach this suspect. We caution residents to call the police if you see him.
BP can also confirm the wounded officer is now at Doctor's Hospital preparing to undergo surgery to have a bullet removed from his jaw. BP offers our prayers and best wishes of a speedy recovery.
We implore the public to support the police and remove these menaces off our streets.